Japan intends to build a skyscraper made of wood in Tokyo
SATRIANOV
Thursday, Mar 01, 2018 | 08:06 pm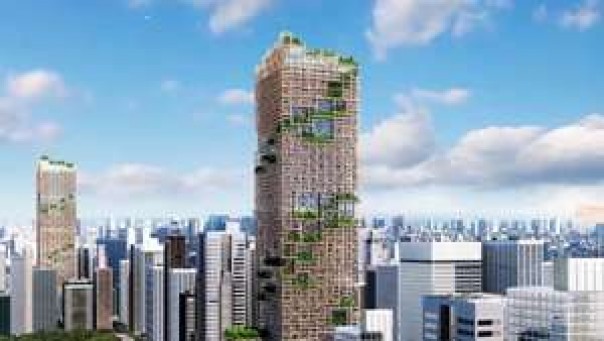 The building
News24xx.com - Japan intends to build a skyscraper made of wood in Tokyo. This peculiar building will be the highest, with height 345 meters.

Japanese Company Sumitomo Forestry stated that the 1.148 feet tower will be finished in 2041. The construction of Tower W350 is estimated to cost 600 billions yen. The 70-stored tower will be hybrid structure made 90 % of wood.

The important feature, which is the steel framework used to control vibration will be used as foundation. It is very important, considering that Tokyo is prone to earthquake. The exterior will be filled with greenery.

Sumitomo Forestry said in a news conference, as cited by CNN, "The purpose of this construction is basically to create an environmentally friendly city and to utilize wood. By using wood as the material for tall buildings, the city will feel like a forest."
Sumitomo Forestry stated that there were many pine trees which had been planted post-World War II which were unattended. On the other hand, those trees were ready to be harvested. The increasing use of wood in Japan is expected to fix the forest preservation and push the community to make sure of its continuity.

Japanese government also encourages construction workers to use wood in designing buildings. In 2010, the government had legitimized the constitution regarding wood utilization promotion.
The constitution obligates that all governmental buildings of 3 floors or more to be made of wood. Japan is not the first country that plans to build structure with wood. The same happened in Canada, where there is a 164 feet wooden tower. The tower, Brock Com mons Tallwood House has 18 floors and is used for students dormitory.
On the other hand, in London, England, Architecture Faculty of Cambridge University's Oakwood Tower will be the first skyscraper in that country. That is, if the government supports it.
The 1000 feet 80-stored building is shorter than The Shard. The invention of a new type of strong wood is allegedly the reason of the new trend of wooden tower.
"There are many new wooden materials that structurally can be used to build a big structure," Dr. Michael Ramage of Natural Material Innovation Centre of Cambridge University said.
News24xx.com/par/dev
---
---