Revealed! It turns out that this is the origin of the ammonium nitrate that caused the big explosion in Beirut
Citra
Sunday, Aug 09, 2020 | 10:45 am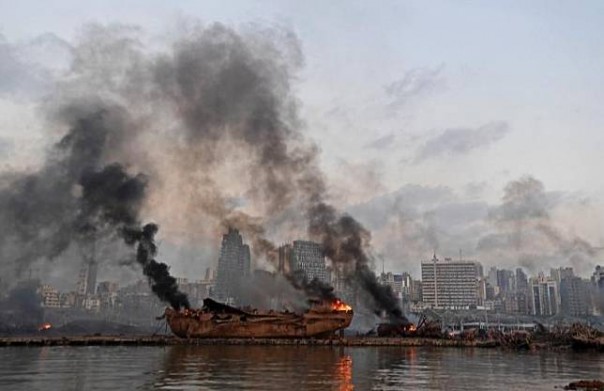 Black smoke and a burning wreck in a large explosion incident at the Port of Beirut, Lebanon.
News24xx.com - A company claims to be a buyer of ammonium nitrate that exploded in the Port of Beirut. The plan is for these chemicals to be used to support mining activities.
Fabrica de Explosivos Mocambique (FEM), an explosives manufacturing company in Mozambique, told CNN that it was they who originally ordered the 2,750 tonnes of ammonium nitrate that the Port of Beirut kept for nearly 7 years.
A company spokesman said the chemicals were ordered as raw material for making explosives for a number of mining companies in Mozambique.
"We can confirm that we ordered it," said a spokesman for the FEM quoted by CNN, Saturday (8 August 2020).
Read more: Attack of Racism; Give Salute in the style of Nazis and Despicable Black Man, Married Wives Arrested


The spokesman, whose name has been changed, explained the process for ordering the chemicals. In 2013, the company entered into a partnership with a foreign trade company to facilitate the purchase of the chemical ammonium nitrate from Georgia to Mozambique.
However, after several months the ammonium nitrate package carried by the Russian ship, Rhosus, did not leave Georgia. The package delivery facilitator said the package would not arrive due to technical problems.
"So, we never paid for it, we never received it," he said.
Then, the spokesman continued, his company placed another order to replace the one "declared missing" on the first shipment. However, again the package did not reach Mozambique after the ship carrying it was detained at the Port of Beirut, while the cargo had to be unloaded to be confiscated.
"It is completely out of our control," he continued.
Read more: Do not Want to Take Too Late, Philippine Capital Lockdown Again Because Corona
Having worked at FEM since 2008, the new spokesperson encountered an order that never arrived. He was suspicious because the chemicals that were sent were in very large quantities.
"Usually, when you order whatever you buy, you will get the goods. This is sent by ship, not buying goods sent by post," he concluded.
A large explosion in Beirut on Tuesday (4 August 2020) afternoon left 150 people dead and injured more than 5,000. The deadly incident further sparked the anger of the people who accused the government of being negligent and corrupt so that dangerous goods could remain in the port for a long time.
Police and Interpol have been interrogating the ship captain and ship owner Rhohus to dig up important information that could support the explosion investigation.
---
---