Do not Want to Take Too Late, Philippine Capital Lockdown Again Because Corona
Citra
Sunday, Aug 09, 2020 | 07:46 am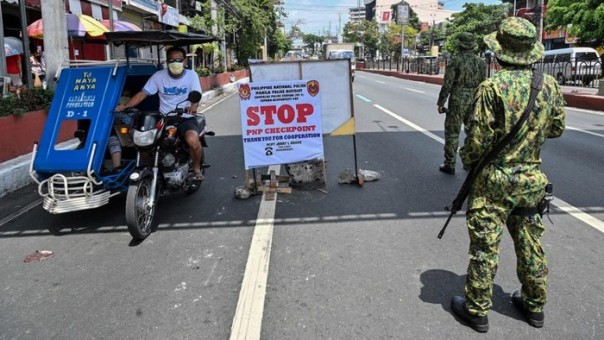 Illustration
News24xx.com - The President of the Philippines, Rodrigo Duterte, ordered the re-enactment of a tight lockdown in the capital city of Manila and its surroundings after the total case of the Coronavirus (COVID-19) in the country broke through 100,000. This tight lockdown will be re-applied for two weeks, starting Tuesday (4 August) local time.
As reported by the Associated Press and Reuters on Monday (3 August 2020), a spokesman for the Philippine presidency, Harry Roque, said that tighter lockdowns or so-called 'Modified Enhanced Community Quarantines' (MECQ) will be applied in Metro Manila and surrounding provinces, like Laguna, Caviet, Rizal and Bulacan.
Read more: Attack of Racism; Give Salute in the style of Nazis and Despicable Black Man, Married Wives Arrested


Manila is currently in the status of Public Quarantine, which does not limit the movement of citizens. Roque stated that tighter lockdowns will be enforced for two weeks, starting on Tuesday (4/8) local time until August 18.
Public transportation in the Manila and surrounding areas will be stopped temporarily and only essential trips are allowed. A number of business activities will also be temporarily closed during tighter lockdowns imposed in Manila and surrounding areas.
Read more: Revealed! It turns out that this is the origin of the ammonium nitrate that caused the big explosion in Beirut
Philippine authorities intend to re-restrict the movement of residents, with work permits and travel documents when quarantine is needed for those who are active outside the home during lockdown. It is known that the Metro Manila area is inhabited by more than 12 million people, who will be affected by this tighter lockdown.
The decision to reinstate the more stringent lockdown was taken by Duterte after nearly 100 medical organizations held a virtual press conference, which was classified as rare, on Saturday (1/8) local time to warn that the health system was overwhelmed by a surge in Corona cases.
Also be warned that the health system could collapse if medical workers fall ill or resign due to fatigue and fear.
---
---