Horrible! The Air India Express plane was split in two, the passenger screamed and fell from the seat
Citra
Saturday, Aug 08, 2020 | 01:16 pm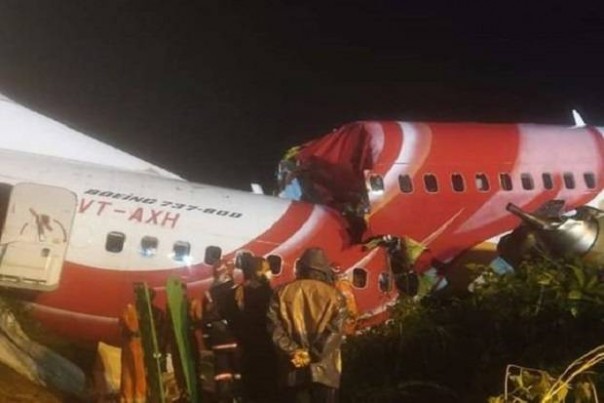 Air India Express flight carrying 191 people split in two after skidding on landing at Kozhikode airport in Kerala, India
News24xx.com - An Air India Express flight carrying 191 people was split in two after slipping while landing at Kozhikode airport in Kerala, India, Friday (7 August 2020) night.
The 191-person Air India Express flight crashed into a valley and split in two after skidding on landing at Kerala's Kozhikode airport. A total of 17 people, including the pilot and co-pilot, died and 173 were injured.
The plane flew from Dubai, United Arab Emirates, and landed at Kozhikode airport Kerala, India. This incident occurred on Friday (7 August 2020) evening India time in heavy rain at the airport.
Read more: Attack of Racism; Give Salute in the style of Nazis and Despicable Black Man, Married Wives Arrested


The survivors recounted the terrible last minutes before the plane crashed in Kozhikode.
"There was a loud noise and we got back on board," Shahina, a mother of four who survived the Air India Express plane crash, told Gulf News by telephone, which was reported on Saturday (8/8/2020).
Local media reports said the plane overtook the runway, crashed into a valley, and split into two parts.
Indian Civil Aviation Minister Hardeep Singh Puri told broadcaster DD News; "The captain (pilot) was unable to land for the first time due to weather conditions and has turned around and tried to approach the airport from another direction."
Read more: Revealed! It turns out that this is the origin of the ammonium nitrate that caused the big explosion in Beirut
India's Blood Donation volunteer group has issued an urgent appeal for people to come forward to donate blood at two hospitals in the city of Kozhikode.
Indian Home Minister Amit Shah wrote on social media that he was distressed by the incident in Kozhikode, and had directed the National Disaster Response Force to assist with rescue efforts.
---
---