Owner of Massage Center in Sidoarjo Stab Victims 22 Times Until Death, Here's the Chronology
Citra
Thursday, Jul 30, 2020 | 03:30 pm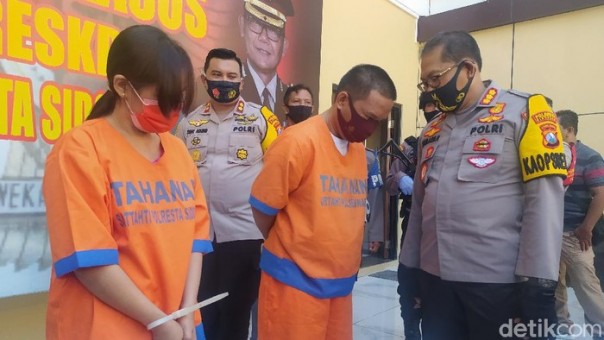 The killer couple is the owner of a massage parlor
News24xx.com - Murderer Mahdalena Tin Kartini (66), owner of a massage parlor in Kedungrejo, Waru, Sidoarjo has been arrested. One of the culprits turned out to be the victim's aide. The perpetrator killed the victim was also assisted by her husband.
The perpetrators are Hesty Putri (32) and her husband Zainudin (32), a Kalimantan resident who works as a taxi driver. Both perpetrators were sadistic enough to kill the victim. They stabbed the victim with scissors 22 times.
Sidoarjo Police Chief Commissioner Sumardji said the perpetrators of this murder were husband and wife. The female perpetrators are victims' helpers. The person is determined to kill because he wants to have the victim's valuables.
Read more: Severe! A Woman in South Tangerang is Raped After Waking Up Then Terrorized From Instagram


Sumardji added that before stabbing koban, the perpetrators smothered the victim with a blanket. After being given a small pair of scissors by Hesty then stabbed the victim's back 29 times. Because the victim is still moving, the perpetrator stabs the back of the head 3 times.
"After 22 stab wounds were immovable and died at the scene," Sumardji added.
Read more: Chronology of Robbery Selling Money of IDR 170 Million in a Small Shop in Ciracas; 1.5-Year-Old Girl Had Been Become a Hostage
The Killer Pasutri Owner of a Massage Center in Sidoarjo was arrested
Sumardji explained that the stabbing was Zainudin. After committing the murder, the two husband and wife perpetrators ran away with the victim's valuables.
The victim's valuables are in the form of a savings book valued at IDR 60 million, and jewelry belonging to the victim in the form of a necklace and a wristband. The perpetrator had taken the victim's money through an ATM. They plan to flee to Balikpapan, Kalimantan.
---
---