Forest and Land Fires in Pelalawan
Monica
Monday, Jun 29, 2020 | 02:18 pm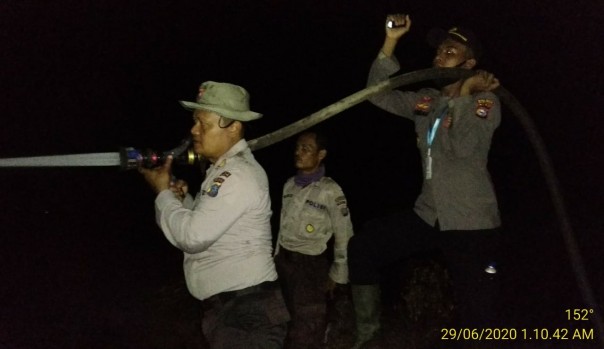 Fire Fighting Activities
News24xx.com - Forest and Land Fire is suspected to be a concession area of ??PT Arara Abadi, a subsidiary of PT Indah Kiat, Sunday, June 28, 2020. This location is known between the border of Teluk Meranti District and Bunut District.
100 joint personnel of the Indonesian National Army, the Indonesian National Police, the Regional Disaster Management Agency, the Plantation Agency, the Manggala agni Fire Department PT. Arara Abadi and the strength of personnel from PT. SSS and PT. Adei Plantation was plunged to do blackouts and cooling at the Karhutla site.
Read more: The Waste Abundant into the Kerumutan River


Confirmation in this morning, Monday, June 29, 2020, Bunut Sector Police Chief Adjunct Commissioner Rohani Police as field coordinator Pemadaman explained, as a whole since this morning at 04.00 West Indonesian Time the fire has been extinguished.
The burnt area of ??approximately 4 hectares, the response from the company was very good as evidenced by lowering the helicopter by 2 units, 4 heavy equipment in the form of excavators and dozens of machines and hundreds of water slang rollers were on location to support the cooling activity.
---
---