Shed down in tears, Danilo Petrucci dedicated his first win in MotoGP to his colleague, Andrea Dovizioso
Padly Nurdin
Monday, Jun 03, 2019 | 09:29 pm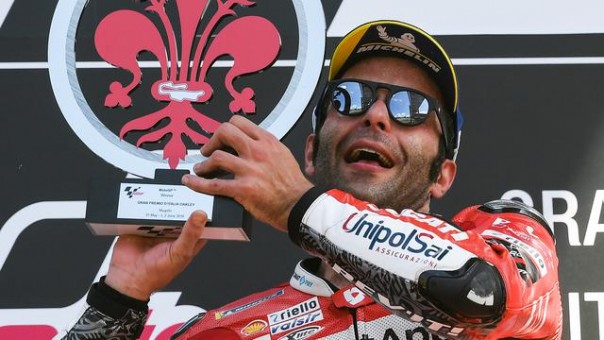 Danilo Petrucci
News24xx.com - Danilo Petrucci won his first victory in the MotoGP event. He dedicated his win to his teammate on the Ducati team, Andrea Dovizioso. In the race at Mugello Circuit, on Sunday, June 2nd 2019, Petrucci became the fastest with a time of 41 minutes 33.794 seconds. He overtook two riders in front of him, Marc Marquez and Dovizioso on the first corner of the last lap.
The intense competition until the last lap in the Italian MotoGP was called by Petrucci as an extraordinary race for him. The 28-year-old rider shed tears on the podium because he was too happy. "This is truly amazing, on the best track in the world. It is a fantastic race. I cannot describe the feeling i have right now" said Petrucci in Crash.
The role of Dovizioso was also called by Petrucci has the big impact for his first victory in MotoGP. "I want to dedicate this first victory to Andrea, my colleague, who adopted me this winter like a child, like a brother. A very big brother" said Petrucci in Autosport.
News24xx.com/fik/red
---
---