Viral Video of Wife Raiding Husband with Other Woman in Makassar, Even though He Had Swore in the First Case
Citra
Saturday, Aug 08, 2020 | 01:07 pm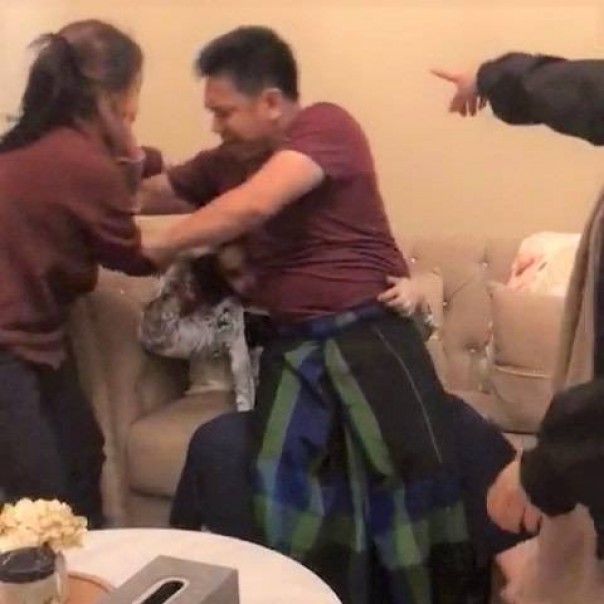 The wife caught to see her husband with another woman in Makassar.
News24xx.com - The 43-second video snippet went viral on social media. The recording shows a mother and her daughter catching her husband alone with a woman in a house in Barombong Village, Tamalate District, Makassar, South Sulawesi.
The couple caught by their legal wife and child with the initials NS and MR. When he was caught, the woman who was suspected of taking the man was tortured by beatings and grabbing her. In fact, his daughter took the jar that was stored on the table and hit the head of the woman who cheated on her father to lie on the chair.
The perpetrator's case has a long tail. The legal wife of NS, with the initials C, took the case to the realm of law. She reported her husband and his mistress at the Makassar Police in a case where there was false information to marriage without the legal wife knowing.
Read more: Viral Story of an old woman in Indramayu who almost died as a result of being wrapped around and sprayed by a cobra


C said that she and her child caught her husband along with another woman last Sunday (2/8). At first, he was going to Trans Studio Mall (TSM) with his son. And on the way, she saw her husband's car drive past and lead to the house of a woman with the initials MR in Barombong Village.
So, C and her child followed her husband. And it was true, her husband went to the woman's house. Then, C was with her child entering MR's house, and she saw her husband was in the house together with his mistress.
Unable to see her husband alone with another woman, she and her child immediately went into the house and attacked the perpetrator. However, her husband at that time, continued to try to drive and protect the woman from the attacks of his wife and child.
Read more: Alert! Just Because Of This Building Material, A Young Girl From England Has A Terrible Rare Cancer
"When I arrived, the woman attacked my child. She took my child's cellphone. And I reflexively entered and attacked the woman back," he said.
C further explained that her husband and the woman who had been cheating on him had long been in an affair and had even married a siri. But the marriage of the series is unknown or without his permission. She just found out that her husband was married to Siri, in 2018.
In fact, continued C, he had caught her husband with her several times. Although this incident had previously been reported to the police and taken through mediation, it turned out that her husband was acting up again. He returned to having an affair with the woman.
---
---