Though That the Place Where He Ate is a Restaurant, After Eating This Man Just Realized He Just Ate in A Resident's People
Citra
Monday, Aug 03, 2020 | 11:30 am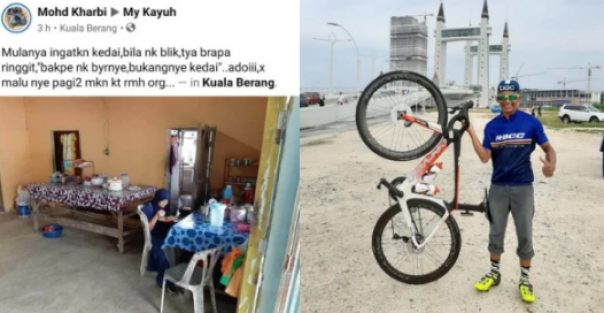 Due to fatigue, this cyclist ate in the kitchen of the person he thought was a restaurant
News24xx.com - A cyclist on his way to Kuala Berang had that experience when he found the best Nasi Dagang he had ever eaten at a roadside stall. However, it turns out that the restaurant is someone's home.
The man named Mohd Kharbi shared his experiences on social media. He told me at the time of the incident he was on his way from Kenyir to Kuala Terengganu.
"After cycling for more than 70 km, I found this simple roadside kiosk. With my judgment clouded by starvation, I turned and stopped at the stall. "
Read more: Attack of Racism; Give Salute in the style of Nazis and Despicable Black Man, Married Wives Arrested


"I saw two girls, a man and a man enjoying their breakfast."
"There's commercial rice there and I thought this food might be a specialty of this shop, so I ordered it."
"I ordered and started to scoop up rice and continued serving as a restaurant. He even chatted a little with me while I was eating. "
After finishing his food, that's when revelation begins.
"When I was leaving, I spoke with the woman asking for his bill. He said that I didn't have to pay because this was not a restaurant. "
"I was also shocked at the fact that I ordered commercial rice at the time and he had some in his kitchen."
Read more: Revealed! It turns out that this is the origin of the ammonium nitrate that caused the big explosion in Beirut
"I didn't think about that, because commercial rice is a dish that I will see every time I visit Terengganu."
"The way the kitchen is organized, with drinking glasses placed on the table at the time, tells me that this is a bona fide shop."
"I can only imagine what the people there thought of me when I invited myself to their home and ate their food."
We are sure that the rice trade that he enjoys is just as authentic, due to the fact that it was cooked by the original blue Terengganu mother.
---
---