UNRI Covid-19 volunteer of Community Service Program Team Helps Distribution of Basic Food Supply for the residents of East Alahair Village
Mia
Wednesday, May 06, 2020 | 11:09 pm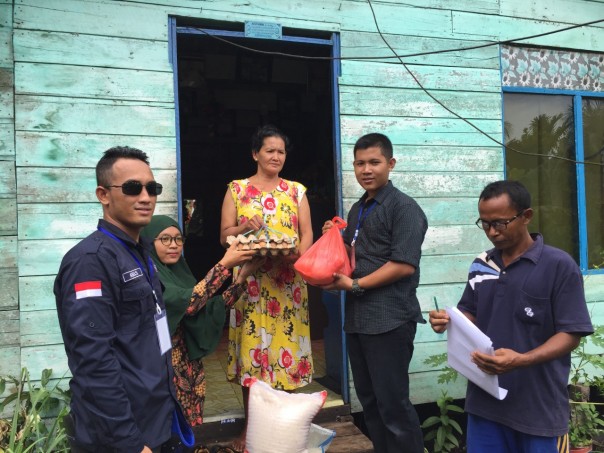 (Support basic food needs to East Alahair residents affected by Covid-19)
The Government of Alahair Timur Village, Tebing Tinggi Subdistrict, Kepulauan Meranti District distributed food packages to the people affected by COVID-19, on Wednesday (05/06/2020).
Head of Alahair Timur Village, Sutrisno said, the food packages were aids from the Meranti Islands Regency Government which had arrived in the village area on Tuesday (05/04).
"We are doing 184 food packages for the people affected by COVID-19. People who get help are people who generally have not received PKH (Family Hope Program) and BLT (Direct Cash Assistance) assistance, "Sutrisno said.
The food distribution activities are coordinated by the East Jakarta Alahair Rapid Movement Team (TGC), involving village organizations namely Youth Organization and UNRI's COVID-19 Volunteer Team and escorted by the local society security agency..
Read more: Team of Real Work Lecture by Volunteers of Village Against COVID-19 UNRI Holds a Series of Activities Against COVID-19 in Alahair Timur Village


"We were included in the packaging process of food packages, supervising the distribution of groceries that will be distributed to RW Alahair Timur Village and we also documented the distribution of basic food distribution," said Fasha, Head of the COVID-19 UNRI Volunteer Team.
The process of distributing groceries continued to comply with social restrictions during the COVID-19 pandemic, namely using masks and keeping a distance.
In addition to distributing groceries, the Head of Alahair Timur Village also urged people to stay at home and wear masks if they are forced to leave the house. It aims to break the chain of distribution of COVID-19. ***
NEWS24XX.COM/MIA
---
---