Sacrificed Buffalo Got Mad in Kudus, One Police Team Come to Handle
Citra
Saturday, Aug 01, 2020 | 03:13 pm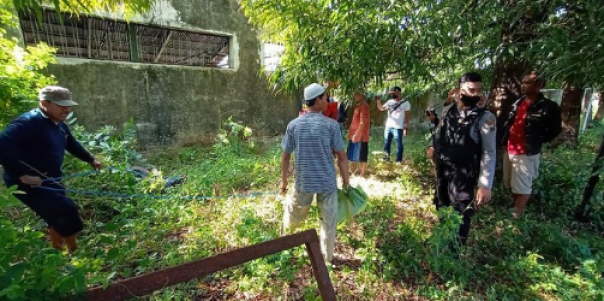 Police when paralyzing buffalo raged at Kudus
News24xx.com - A sacrificial buffalo in Ngembal Kulon Village, Jati District, Kudus went on a rampage when he was about to be killed. The police were forced to shoot the buffalo three times.
The buffalo even had time off on the road Pantura Kudus this morning. Chairman of the Almutaqin Ngembal Kulon Mosque, Jati Kecataman, Ahmad Farid Hermawan said the buffalo rope was released when it was slaughtered this morning, at 07.30 am.
Read more: Viral Story of an old woman in Indramayu who almost died as a result of being wrapped around and sprayed by a cobra


Ahmad said the buffalo then came out of the cage to run to the road and finally entered the football field in the village of Ngembal Kulon. It was indeed just going to hold a sacrifice today.
"It turned out that the rope was loose, then around because of stress. From the warehouse, the door was kicked away, entered (into the local village soccer field because the gate was open), then entered the field, then I contacted the police station asking for the help of the sniper team," explained Ahmad .
Read more: Alert! Just Because Of This Building Material, A Young Girl From England Has A Terrible Rare Cancer
Until finally the police station came to paralyze the buffalo. At around 09.00 am the buffalo was finally paralyzed with three shots.
The buffalo was paralyzed by a team of five police officers. The buffalo was then paralyzed with three shots.
---
---