Getting Disappointed; Acceptance of CPNS Abolished for 2 Years
Citra
Tuesday, Jul 07, 2020 | 11:42 am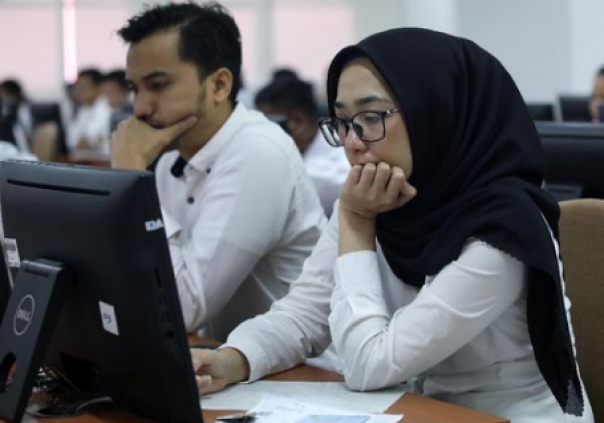 Calon Pegawai Negeri Sipil (CPNS)
News24xx.com - The PNS candidates take the Computer Assisted Test (CAT) -based Basic Competence Selection (CAT) at the South Jakarta Mayor's Office. There are thousands of participants who took this test.
Minister of Administrative Reform and Bureaucracy Reform (MenPAN RB) Tjahjo Kumolo ensured that there will be no acceptance of prospective civil servants (CPNS) and PPPK (government employees with work agreements) for the 2020 period. However, for special positions such as the Police and Military Academy, there will remain a walk as usual.
Read more: Viral Story of an old woman in Indramayu who almost died as a result of being wrapped around and sprayed by a cobra


"Recruitment for CPNS 2 this year does not exist except official that is already programmed such as political parties, military officers, the others (CPNS and PPPK) are still in 2021," said Tjahjo met at the RI House of Representatives, Jakarta, Monday (6 July 2020).
Related to the Field Competency Selection (SKB) tests for prospective civil servants (CPNS) for Formation in 2019 had experienced delays due to COVID-19, planned to be held next August 2020.
Even so, Bima ensures that the 2019 CPNS selection process will continue to prioritize the application of strict health protocols.
Read more: Alert! Just Because Of This Building Material, A Young Girl From England Has A Terrible Rare Cancer
Also, the schedule is still possible to change while continuing to adjust the emergency status of the Coronavirus (COVID-19) in Indonesia. In addition, the National Selection Committee (Panselnas) will also consult with the central and regional COVID-19 Task Force related to the holding of the SKB.
At present, BKN is making a new Circular related to the mechanism
To note, the selection of CPNS formation in 2019 should have been completed in May. However, due to the COVID-19 pandemic, the National Committee decided that the CPNS SKB would be postponed temporarily until conditions permitted. While the Basic Competency Selection (SKD) exam has begun on January 27 and ended on March 10, 2020.
---
---