UK Supermarket Pulls Monkey-Picked Coconut Products, Because of This
Citra
Tuesday, Jul 07, 2020 | 08:29 am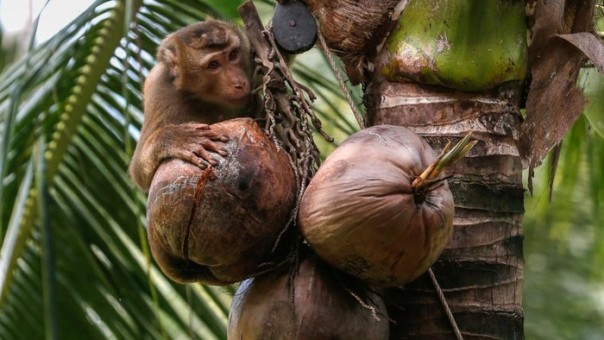 Great Britain pulls coconut products picked by monkeys
News24xx.com - A number of supermarkets in the UK pulled water and coconut oil products from their shelves after news emerged that they were made with fruit harvested by monkeys.
The monkeys are taken from the wild and trained to pick up to 1,000 coconuts a day, according to the People for the Ethical Treatment of Animals (Map).
The animal rights activist group said the pig-tailed macaques (Macaca leonina) in Thailand were treated like "coconut picking machines".
In response, the supermarket network Waitrose, Ocado, Co-op, and Boots promised to stop selling some related products.
Read more: Attack of Racism; Give Salute in the style of Nazis and Despicable Black Man, Married Wives Arrested


Meanwhile, Morrisons said they had unloaded products made from coconuts which monkeys picked from their shelves.
In a statement, Waitrose said: "As part of our animal welfare policy, we are committed to not consciously selling any product sourced from monkey labor."
The co-op said: "As ethical retailers, we do not allow the use of monkey laborers to harvest raw materials for our products."
Read more: Revealed! It turns out that this is the origin of the ammonium nitrate that caused the big explosion in Beirut
Earlier, in a chat last Friday, the fiance of British Prime Minister Boris Johnson, Carrie Symonds, a conservationist, asked all supermarkets to boycott the products.
Asda said: "We expect our suppliers to uphold the highest production standards at all times and we will not tolerate any form of animal abuse in our supply chain."
---
---