Passing China's National Security Act, 180 Demonstrators Arrested in Hong Kong
Citra
Thursday, Jul 02, 2020 | 03:49 pm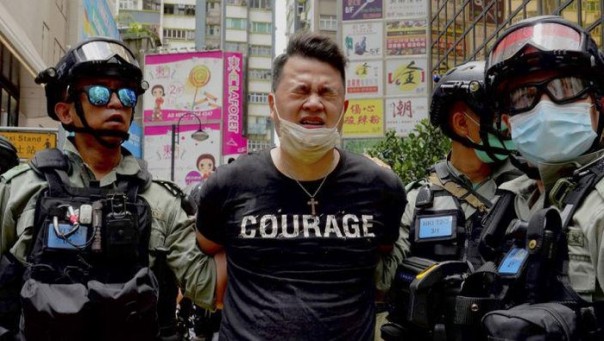 7 Orang Demonstran Terjerat UU Keamanan Nasional China
News24xx.com - Hong Kong police have arrested more than 180 people today, including 7 people who were arrested under the new National Security Act passed by China. The law was enacted as thousands of pro-democracy demonstrators took to the streets in Hong Kong on the 23rd anniversary of the region's surrender from Britain to China.
This move is seen as the most significant change since Hong Kong left the British government in 1997. Critics see the law as a direct threat to the "one country, two systems" policy that gave Hong Kong increased democratic freedom.
Read more: Attack of Racism; Give Salute in the style of Nazis and Despicable Black Man, Married Wives Arrested


Hong Kong police said they had arrested a total of more than 180 demonstrators for violating a ban on demonstrations and other violations on Wednesday (1 July).
Police used pepper guns and water cannons to disperse the demonstrators. The police also said that one officer had been injured by protesters and the others had set fire to the barricades while blocking traffic.
The anniversary of Hong Kong's surrender to China has become an annual opportunity for protesters to stage demonstrations against what they see as China's increasing encroachment on the city's freedom.
Read more: Revealed! It turns out that this is the origin of the ammonium nitrate that caused the big explosion in Beirut
Official permission for the protest was denied for the first time this year due to the Coronavirus pandemic. But banning this demonstration did not deter a large crowd of peaceful demonstrators.
The police warned that if protesters continued to shout anti-Chinese slogans, they would face arrest under the new security law. The new law prohibits the crime of secession, subversion, terrorism and collusion with foreign troops, with the threat of life imprisonment.
---
---