Regulate the Use of Masks, Disperindag and Kodim Inhil Held Raid in Kayu Jati Market
Rida Ayu Agustina
Tuesday, May 12, 2020 | 04:17 pm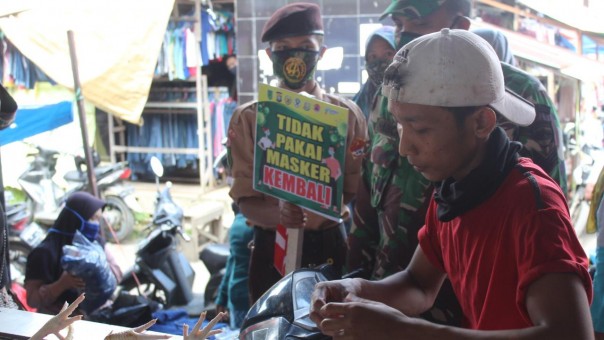 Raids masks at Tembilahan Teak Wood Market
Inhil-Task Force Team from Kodim 0314 Inhil together with Inhil Police, Disperindag, and Tembilahan Hulu Sub-District, Tembilahan Hulu Sub-District Police and Menwa and Scouts conducted a raid to curb the use of masks in the Teak Market, Tuesday (05/12/2020).
This time the raid was somewhat different from the previous raid where the officers no longer gave appeals or socialization to traders and buyers who were in the market who were not wearing masks. This time the officer just handed me a sign that read "Don't Wear a Mask Please Return".
Thus people who do not wear masks will feel more embarrassed and more aware to always use masks when leaving the house.
Also attending the raid activities were Dandim 0314 Inhil, Tembilahan Hulu Sub-District Head and Tembilahan Hulu District Police Chief.
Read more: Principal of Junior High School in Indragiri Hulu Kompak Mundur


Before carrying out the raid duties, all those involved in the raid carried out the apples first in the apple field Kodim 0314 / Inhil in the pimpon by Pasi ops Kodim 0314 / Inhil Captain Inf Tarmizi.
In the delivery at Pasi Apple, ops said that with us doing routine raids in various places.
"The level of public awareness to always wear a mask when leaving the house, thank God, it has increased," he said
Hopefully, the ease with the implementation of this kind of community will be more aware and more obedient again and realize how important it is to look after each other.
Meanwhile, Tembilahan Hulu Sub-District Chief, M Nazar said that the raid had no other purpose than to break the chain of distribution of co-19.
Read more: Incredible! a Dog Action Successfully Rescued Two Families from Fire, It's Really Heroic
"We have no other intention in this raid other than to break the chain of this corona, to the people we appeal to obey government rules," he said
He said again, today we no longer carry out socialization, but already on the action.
"We have done socialization many times, today we immediately take action, of course, with a persuasive approach, but if something is stubborn, it will be acted upon by officers, of course in accordance with applicable regulations," he concluded
---
---