Use Hazmat to the Market Due to Corona and Nasi Padang as the Corona Spreader; People Attention Are Sucked
Citra
Thursday, Mar 26, 2020 | 01:49 pm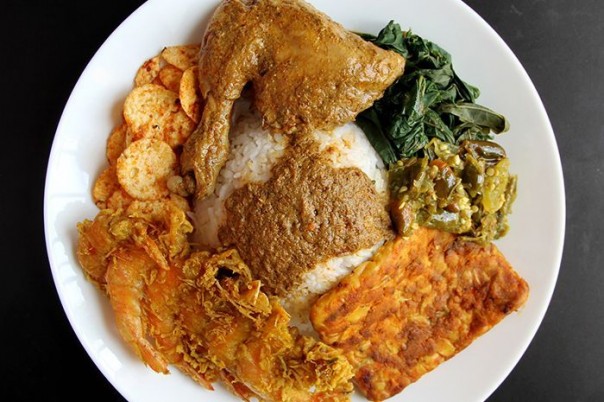 Nasi Padang (traditional food from Indonesia)
News24xx.com - Social media is stirred by two residents who go to the market using hazmat. Not only that, news about Nasi Padang which is said to cause the coronavirus has also become viral. Here is the report
Here are 2 of the most popular news in the country related to corona, as reported by deikFood:
1. Shop at the Market Wearing Hazmat
Hazmat or hazardous materials are decontamination clothing used for protection against hazardous materials. Currently, hazmat is widely used by medical personnel who treat patients infected with dangerous coronavirus.
Read more: Viral Story of an old woman in Indramayu who almost died as a result of being wrapped around and sprayed by a cobra


Two people who used hazmat were finally viral on social media. Because they wear special clothes to shop at the market. This finally provoked netizens' emotions and scathing comments.
Because it should be used by medical personnel. Seeing the number of medical staff who still lack PPE.
2. News Padang Rice Rice Hoax which Said to Corona Virus
Nasi Padang (traditional food from Indonesia) which is a typical food of West Sumatra is rumored to be one of the causes of the coronavirus. This hoax news was spread via Whatsapp messages and caused a stir on social media.
Read more: Alert! Just Because Of This Building Material, A Young Girl From England Has A Terrible Rare Cancer
A culinary practitioner Ari Parikesit also raised the tweet to social media Twitter. He said, "Slandering Nasi Padang as a source of the corona, a citizen finally wrote an apology letter added with a stamp duty 6000. Minang kinship is opposed."
The hoax announcer has finally apologized. By writing a letter of apology which was added by a 6000 stamp. The spreader of this hoax was found by a man over 40 years old from Jakarta.

NEWS24XX.COM/CTR
---
---