Disgusting! So Many Pig Carcasses are Found in the Rivers and Lakes, Residents Become Reluctant to Eat Fish
Citra
Thursday, Nov 14, 2019 | 11:34 am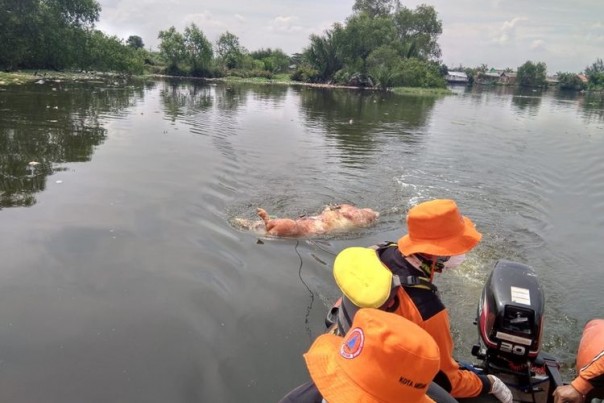 The pig carcass is found in a river
News24xx.com - Fish traders in Pringgan Market complained about the decline in sea fish sales.
The residents rollicking reluctant to buy fish since many pig dead bodies found in the river.
The carcasses of pigs were allegedly thrown by residents from upstream of the river. The pigs are victims of the outbreak of pig cholera outbreak in 11 districts in North Sumatra. The last note of the Department of Food and Animal Husbandry of North Sumatra, at least 5,800 pigs in North Sumatra died because of this virus.
Traders who complained that buyers who rarely come also complained about the price of fish being cheaper.
"Fish sales declined more than doubled. Afraid of people wanting to buy fish. 'Ah, I don't want to buy fish anymore, I have thrown away the dead pig in Percut there'," he said imitating customer complaints, Wednesday (13 November 2019).
He said that tuna, which is usually priced at IDR 25 thousand per kilogram, is now only sold at IDR 18 thousand per kilogram.
Before the massive disposal of pig carcasses, he claimed to be able to sell up to 150 kilograms of fish a day.
"Now it is only 70 kilograms at the most. Today I only carry 50 kilograms, this afternoon it's still not sold out, we have already destroyed it, this is the proof," he said, showing the merchandise.
While in the Sambu Market, fish stalls are quiet. Nainggolan, a fish trader, said that sales in his kiosk have been very minimal in the past few weeks.
"Before the existence of the carcass of the pig had started to be empty of fish buyers. It seems like all businesses are quiet. It's increasingly quiet again," said Nainggolan while shaking his merchandise fish.
He admitted that it was very difficult to sell fish. According to him, in a day if he managed to sell 30 kilograms of fish alone it would have been a great achievement.

---
---