Department of Communication and Information of Siak Regency is Intense Conducting Information Dissemination through Siak Television and RPK 92 FM
LINA PUJI LESTARI
Monday, Aug 03, 2020 | 04:29 pm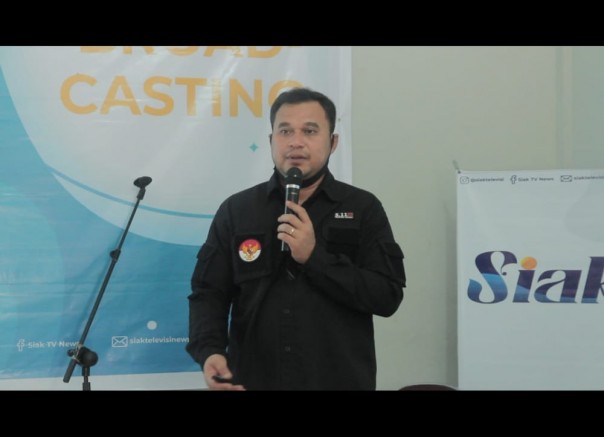 Paula candra, Head of Information
News24xx.com - The Siak Regency Communication and Information Office since the beginning of 2019 has been increasingly intense in disseminating information to the public through 2 broadcasting institutions namely the Siak Local Public Broadcasting Television and Radio RPK 92 FM
Local Public Broadcasting Institution SIAK Television and RPK 92 FM since the beginning of 2019 have been actively delivering various information to the public. Various programs that are packed by Siak Television and RPK are now getting more and more awareness from the people. Starting from the news program also hold other programs.
As said by the Head of the Office of Information to the District of Siak H. Arfan Usman, through the Head of Public Communication Information Section at the same time the General Manager of Siak Television and RPK Paula Candra.
"Amid the Covid-19 Pandemic that is sweeping the world today. Correct information is needed by the community," Paula said.
Read more: Animal Sacrifice Reaches 1,924 Tails


This is where the role of television and radio broadcasting institutions becomes information channels present in the delivery of information. The news program on Siak Television is broadcast 3 times a day. For other programs made in the form of Feture and talk show programs, he continued.
Meanwhile, currently Siak television broadcasts can reach all regions in Indonesia by using Parabola Ninmedia Siak television broadcasting via satellite chinasat. In addition, the public can also watch Siak Television through KUGO APK streaming and streaming YouTube and Facebook.
Also added is distributed through cable television networks operating in the Siak district. So it's very easy now that people can watch Siak television. As for Radio 92. FM is now present with various programs that are adapted to current conditions where the public can get information through radio broadcasts.
Read more: The Monitoring Post Enter Siak is Guarded Closely
The latest breakthrough that we made also some time ago the Local Public Broadcasting Agency Siak tv and RPK made a training and apprenticeship program for young people who like journalism to carry out this program for 3 months. There are 25 participants who are currently on their internship at Siak Television and RPK. Our hope with this program is that the Siak community, especially young people who are happy with broadcasting, have knowledge about Television and Radio.
In addition, Siak Television and RPK are currently actively involving the community in producing programs on television and RPK. we want to make Siak tv a broadcasting institution that is proud of the people of Siak district because not many regions in Indonesia have local public broadcasting institutions like Siak district
Our hope is, of course, the Siak district government will increasingly provide support to Siak Television and RPK so that in the future it can be maximized to become an independent, independent local Public Broadcasting Institution so that it can truly benefit the Siak Regency community. We are optimistic that the Local Public Broadcasting Agency of Siak Television and RPK can be the frontline in conveying information.
There are still many programs that we will roll forward that can provide. Benefits to the community. Both the education program and information program, he concluded. (Lin)
---
---