Animal Sacrifice Reaches 1,924 Tails
Monica
Saturday, Aug 01, 2020 | 04:08 pm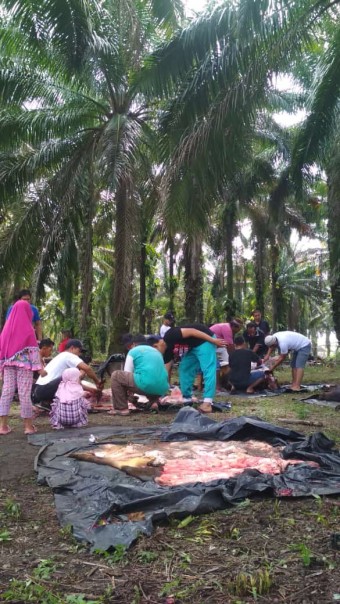 Animal Sacrifice Reaches 1,924 Tails
News24xx.com - In accordance with Circular from the Ministry of Religion of the Republic of Indonesia, No. Circular 18 of 2020, regarding the implementation of Eid al-Adha Prayer and Sacrifice Sacrifice during the Covid-19 pandemic, the Eid Al-Adha Prayer was held in a mosque or field. With the condition, continue to implement health protocols, and the organizing committee must be disciplined to conduct strict supervision.
Read more: Department of Communication and Information of Siak Regency is Intense Conducting Information Dissemination through Siak Television and RPK 92 FM


The number of qurban animals in 1441 H / 2020 M The number of cows / buffalos in Siak Regency is 1609 while the total number of goats is 315. The total number of sacrificial animals in Siak Regency is 1924.
Read more: The Monitoring Post Enter Siak is Guarded Closely
"The virtue of this Eid al-Adha is to remind us to always increase the Faith and Taqwa to Allah SWT with the spirit of sincerity in giving alms to help others," said the Daily Secretary of the Siak Regency, Jamaluddin.
---
---