Had disappeared, Mrs. Suci Hartati Successfully Found Tualang Police Personnel
Firman
Sunday, Jun 07, 2020 | 07:40 pm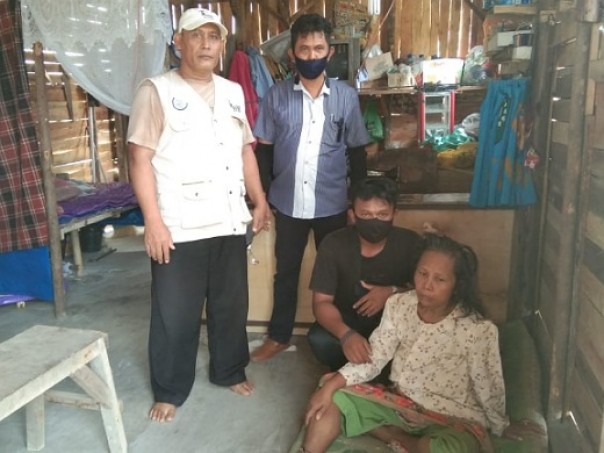 Had disappeared, Mrs. Suci Hartati Successfully Found Tualang Police Personnel
News24xx.com - Tualang Sector Police succeeded in finding 53-year-old Suci Hartati, a resident of Pekanbaru who was reported missing from her home on Wednesday 3 June 2020 by her family. He was found by the Tualang Police Station after receiving a report and conducting a search.
The middle-aged woman was immediately handed over by the Perawang Industrial City Police to her family on Saturday 6 June 2020.
Read more: Department of Communication and Information of Siak Regency is Intense Conducting Information Dissemination through Siak Television and RPK 92 FM


"From the information of his son named Irin, his mother is in Tualang Subdistrict, based on these reports and information, we immediately conducted a search and coordinated with all the Village Governments in Tualang Subdistrict, Alhamdulillah, it did not take long for us to immediately find the Holy Mother Hartati in the western Kampung Perawang area," said Tualang Police Chief AKP Faizal Ramzami Sunday 7 June 2020.
Suci Hartati was found on Jalan Raya Perawang by a resident named Sukiman in Kampung Perawang Barat. Then immediately bring and secure to his house because it looks Holy Mother in a state of confusion.
Read more: Animal Sacrifice Reaches 1,924 Tails
"After we met with Sister Irin it was true that the woman who was secured by the residents was the person who was reported to have left and disappeared. We immediately handed the Holy Mother Back to her family to be brought back home," concluded AKP Faizal.
The former Kasat Criminal Investigation Unit of Siak also thanked the Tualang community for securing the Holy Mother and immediately coordinated with the police.
"Thank you very much to Pak Sukiman and the people who have found the Holy Mother. Hopefully the goodness done by the people will become a religious deed. We are very appreciative with the people of this Industrial City who really take care of Kamtibmas together," he added.
---
---