Riau Regional House of Representatives Call PT SS
Monica
Tuesday, Jul 21, 2020 | 10:14 am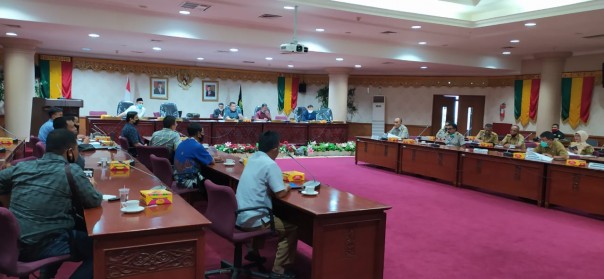 The hearing of the Riau Regional House of Representatives and PT SS
News24xx.com - Commission II of the Riau Regional House of Representatives on Monday 20 July 2020 called PT Siberida Subur (SS) operating in Indragiri Hulu in a hearing and took place in the medium of the Riau Regional House of Representatives which was attended by the chair of the Commission II of the House Riau Regional Representative Robin Hutagalung, member of commission II Sugianto and Manaha Natipulu.
Read more: Hotspots in Riau Region


The summons of the oil palm plantation company follows up on complaints from the Talang Mamak Tani group that PT SS is suspected of illegally operating a plantation within the forest area.
Read more: Based on Data; COVID-19 Patients in Riau are Predominantly Male
Meanwhile Hendra Leo as Legal Head at PT Siberida Subur responded to what was conveyed by the Riau Regional House of Representatives and the Talang Mamak Farmer Group. PT SS in the plantation business has had a location permit since 2007. 89/2007 in February 2007, Plantation Business License No. 92/2007 in February 2007 and Environmental Permit No. 5/2008 April 2008 and justified by the Head of Business Development and Extension Services of the Riau Provincial Plantation Office Sri Ambar K, based on documents that have been PT. Seberida Fertile have.
---
---