2018 Tour de Singkarak will go on the distance of 1,267 Km and will be started today
SATRIANOV
Saturday, Nov 03, 2018 | 09:53 am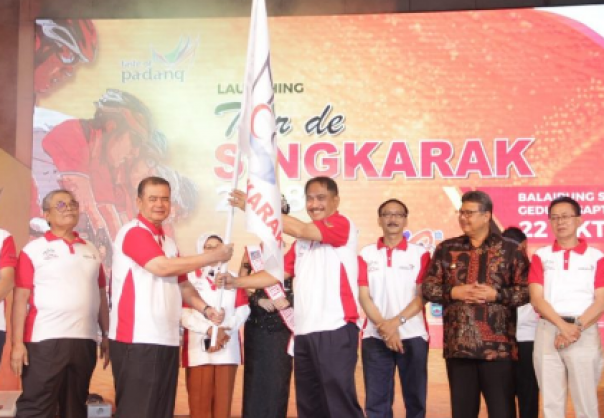 Illustration
News24xx.com - The launch of 2018 Tour de Singkarak (TdS) as an international bicycle racing event will be opened today on Saturday, November 3, 2018. This event will take place from November 3rd to 11th, 2018 by crossing 16 districts / cities throughout West Sumatra along 1,267 kilometers. 2018 TdS will start from the City of Bukittinggi and finish in Pariaman city.
Minister of Tourism (MenPar) Arief Yahya along with Deputy Governor of West Sumatra, Nasrul Abit, and several heads of Regency and City regions in West Sumatra at the time while in Jakarta inaugurated the launch of the 2018 Tour de Singkarak (TdS) sport tourism event at Balesung Soesilo Soedarman, Sapta Pesona Building Jakarta, on Monday afternoon, October 22nd 2018.
TdS is recognized by Amouri Sport Organization (ASO), headquartered in Paris, France and Union Cycliste Internationale (UCI) as a sport of bicycle racing with the highest number of participants ranked 5th in the world.
In this 10th year, Menpar hopes that everything will be more existent, according to the theme raised in TdS 2018, "One Decade For All".
Menpar Arief Yahya appreciated the launching of 2018 TdS as an event to promote West Sumatra as one of Indonesia's leading tourist destinations, especially in sports, culture & tourism in order to increase foreign tourist arrivals and the tourist movement of the archipelago to West Sumatra which was visited in 56,313 foreign tourists and 6.5 million tourists.
"The implementation of the 2018 TdS sport tourism event will certainly have a direct impact on the economy of the community (direct economic value impact) and high media value and provide a positive influence on the promotion of West Sumatra tourism nationally and internationally" said Arief Yahya, quoted from the site official tourism in West Sumatra, November 2nd, 2018.
"I invite all parties, all levels at the central and regional levels, the private sector, the media and the wider community to support and succeed the implementation of 2018 TdS which is now 10 years old, so that in this decade, this world-class bicycle racing event can "One of the prestigious sport-tourism venues in foreign countries" said Minister of Tourism Arief Yahya.
On the same occasion, the Deputy Governor of West Sumatra Nasrul Abit said, "The positive impact of the implementation of TdS is felt by people of West Sumatra, especially the direct impact of the economy during the implementation."
"This can be seen from the increasing occupancy rates of hotel rooms, food sales, souvenirs, and typical souvenirs from West Sumatra. In addition, encouraging increased infrastructure, especially roads that will be passed by bicycle racing participants to be maintained and increasingly smooth" said Nasrul Abit.
"This TdS is also an effective step to promote West Sumatra tourism marked since the implementation of the first 2009 TdS, now emerging new tourist destinations in West Sumatra and known to the wider community" he continued.
"It does not seem that we have held the Tour de Singkarak 2018 for 10 years, or we call it a decade, so this year's theme is 'One Decade for All' which is our work performance for West Sumatra is our work with West Sumatra for Indonesia" continued Nasrul Abit.
The 10th TdS this year was attended by 15 teams from overseas and 5 national teams. The participants will show their strength by crossing 16 Regencies / Cities in West Sumatra Province along 1,267 kilometers to win a total prize of IDR 2.3 billion. This year the Province of West Sumatra has 132 calendar of events (CoE). Of the 132 CoEs, 3 events including 2018 TdS, Pagaruyung Festival, and Sawahlunto International Music Festival entered the Wonderful Event CoE and received support from the Ministry of Tourism.
In addition, West Sumatra Tourism is also supported by adequate elements 3A (Attractions, Amenities and Accessibility). West Sumatra has attractions (man made), among others; Jawi Runway, Itiak Runway, Tabuik, Horse Runway, Kite Race, Biduak Runway, and TdS, while natural attractions include Meninjau Lake, Pulau Pagang, Mandeh Island, Bukit Tinggi, and Mentawai Island as world-class surfing destinations .
Meanwhile for the West Sumatra amendment in 2015 there are 313 hotels with a total room of 4,750 units, while the accessibility element of West Sumatra has Minangkabau International Airport (BIM) which is flown by national airlines including Garuda Indonesia, Sriwijaya Air, Lion Air, NAM Air, Citilink, Batik Air , and Wings Air for domestic flights and international flights by Air Asia and Lion Air.
News24xx.com/fik/red
---
---
Related News
Sep 15, 2018 | 09:50 am LT

Sep 08, 2018 | 10:56 am LT