Indragiri Hilir Regent Appreciates 2 Companies that Assist Equipment for Fire Concerned Community
Rida Ayu Agustina
Saturday, Jul 04, 2020 | 08:56 am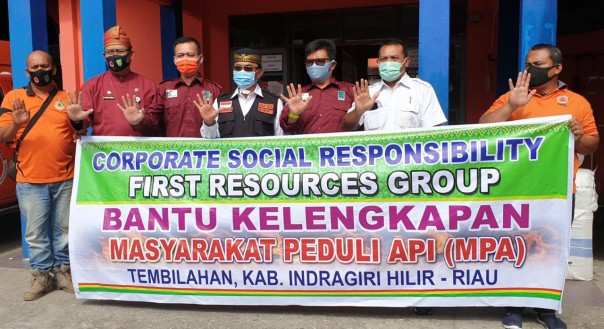 Regent of Indragiri Hilir, HM Wardan when receiving assistance from 2 companies in Indragiri Hilir
News24xx.com - Regent of Indragiri Hilir Regency, HM Wardan, appreciated the 2 groups of companies for providing Corporate Social Responsibility assistance in the form of forest and land fire suppression equipment for Fire Concerned Communities
Providing aid such as shoes, hats and vests symbolically handed over by the 2 groups of companies engaged in the field of agribusiness in Indragiri Hilir Regency through the Indragiri Hilir Regency Government, Friday 3 June 2020 morning at the BPBD Indragiri Hilir Regency Road Office, Jalan Earth Color, Tembilahan.
According to the Regent, the equipment assistance provided was a form of corporate concern about the phenomenon of forest and land fires that often hit the Riau Province region, particularly Indragiri Hilir Regency.
Read more: Indragiri Hilir Regency Government Handed Over 4500 Land Certificates


"I as the Regional Head would like to thank and appreciate step 2 of the group of companies that have provided assistance in fighting out forest and land fires for (Community Fire Concerned) or MPA," said the Regent after receiving assistance.
The Regent admitted that the meeting of the two parties had long been scheduled. However, due to the Covid-19 pandemic, a new meeting can be realized at this time.
"In the current situation, where a number of hotspots in Indragiri Hilir District have been monitored, the assistance of this equipment will be very useful for the Fire Concern Community's operations," said the Regent while saying, he would soon distribute the equipment to the MPA (Fire Concerned Community) which was spread in every village and village in Indragiri Hilir Regency.
Read more: Regent of Indragiri Hilir as Speaker for the Webinar "Sawit Watch"
With the monitoring of the emergence of hotspots, the Regent appealed to the entire community, especially the farming community to be more careful in opening up plantations.
"Do not clear land by burning. In addition to being potentially widespread, fires caused by land clearing can also lead to a criminal offense. To the public, please be more vigilant," the Regent said.
Representative of one of the group companies, Nurman Farid Mustaqim said, the provision of assistance is a form of corporate concern in efforts to prevent land and forest fires, bearing in mind that the area of ??Indragiri Hilir Regency is dominated by peat soils that make the potential for forest and land fires even greater.
The handover of equipment assistance for the MPA (Fire Concern Community) was also attended by a number of Leaders of the Regional Apparatus Organizations in the Indragiri Hilir Regency Government.
---
---