Attended by Head of Police and Head of KUA Tualang, Hundreds of Friday Prayers at the Nurul Islam Perawang Mosque with Covid-19 Health Protocol
Firman
Friday, Jun 05, 2020 | 08:09 pm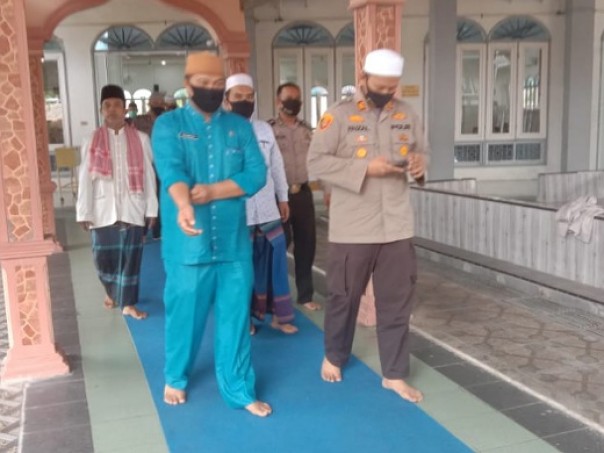 Attended by Head of Police and Head of KUA Tualang, Hundreds of Friday Prayers at the Nurul Islam Perawang Mosque with Covid-19 Health Protocol
News24xx.com - Even though the Large-scale Social Restriction in Siak District has ended, the Nurul Islam mosque congregation, Perawang Village, Tualang District, Siak Regency, Riau, is solemnly performing Friday prayers by complying with health protocols, Friday June 5, 2020.
This Friday's meeting was apparently attended by the Sub-District (Upika) sub-district leader Tualang, represented by the Tualang Police Chief AKP Faisal Ramzami and the Head of the Religious Affairs Office of Tualang Najamudin District.
Read more: Department of Communication and Information of Siak Regency is Intense Conducting Information Dissemination through Siak Television and RPK 92 FM


The arrival of Upika Tualang in the Friday prayer service at Perawang Village was at the same time a review of places of worship that were worthy of carrying out congregational activities.
Before entering the mosque, the mosque management looked at the pilgrims, both checking their body temperature and asking them to wear masks while attending the Sunnah Prayer once a week.
"Our arrival on Friday prayers in congregation at the Nurul Islam Mosque, in addition to following Friday prayers, we are also reviewing places of worship ahead of the implementation of the New Normal, and thank God the public orderly obeyed the health protocol," said Tualang Police Chief AKP Faisal after carry out Friday prayers in congregation with hundreds of residents.
The former Head of Criminal Investigation Unit at Siak said that with a new or new normal order, the place of worship could be used again. However, with a note that health protocols can be implemented such as maintaining distance and also maintaining mosque cleanliness by periodically spraying disinfectants.
Read more: Animal Sacrifice Reaches 1,924 Tails
The same thing was also expressed by the Head of KUA Tualang Najamudin. He conveyed that in New Normal later, houses of worship were allowed to officially carry out worship in congregation with a note of applying strict health protocols.
"In the future, all houses of worship will be permitted to hold worship activities in congregation with the record of continuing to implement health protocols properly. Just as we have seen today at the Nurul Islam Mosque," he said.
He hoped, by being allowed to carry out worship in congregation the community could get used to maintaining cleanliness, so as to avoid all diseases.
"What we have both done while carrying out Friday prayers in this mosque, we hope that it will also be implemented in other houses of worship. Hopefully this epidemic ends soon, and we are all given patience in undergoing this test," he added.
---
---