Regent Inaugurated the Gunung Toar Inpatient Building
Mia
Monday, Dec 02, 2019 | 10:09 pm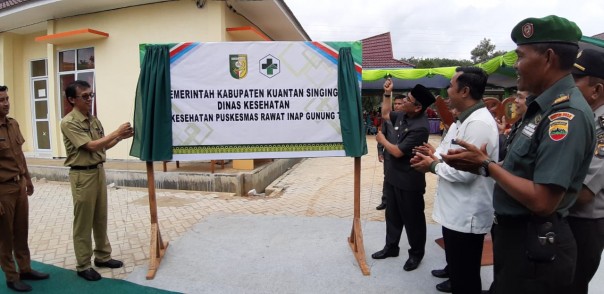 (Kuantan Singingi Regent Mursini, MSi inaugurates the Inpatient Building in Gunung Toar District (photo / Zar))
KUANSING- Kuantan Regent Singingi Mursini, MSi inaugurated the Inpatient Building in Gunung Toar District. Because the Regional Government has revitalized the Puskesmas Building and upgraded the Puskesmas Health UPTD status, from Outpatient to Inpatient.
According to the Regent, UPTD Gunung Toar has a big share, because it can reduce the number of deaths and increase the coverage of health care programs, as a whole through Promotive and Preventive efforts and empowering the community.
Therefore, he said, to increase the reach of health services, improve health facilities and infrastructure, the distribution of village midwives to all villages in Kuansing, and the existence of guaranteed delivery.
So, Germas which was launched in 2017, and also has the Germas Forum. Also followed by "Healthy City District Socialization, Puskesmas Accreditation and various Programs", others in an effort to improve community health status.
But there are still many things that need to be improved because there are still, 9 cases of maternal death, 63 cases of infant death, 5 cases of under-five deaths with malnutrition, and 5 cases of malnutrition and 18 percent of stunting, "he said.
This is due, Not all delivery assistance is carried out by Health Workers and facilitated by health. There is still a lot of help done by unskilled people, including in Mount Toar. "This year there are 22 deliveries, which are assisted by unskilled labor," he said.
In fact, all villages must have achieved Complete Basic Immunization (UCL) of 80 percent, and not all villages have ODF / Stop BABS, "he said. (R24 / Zar)
---
---