Abrasion, 2 Buildings in Tembilahan Collapsed in to the Indragiri River
Rida Ayu Agustina
Saturday, Aug 01, 2020 | 01:43 pm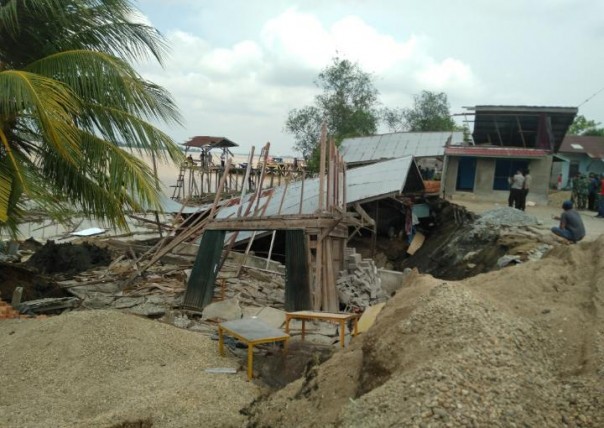 Buildings that have collapsed into the sea
News24xx.com - On the second day of Eid al-Adha, on Saturday, August 01, 2020, a landslide caused by seawater abrasion caused two buildings on the banks of the Indragiri River to collapse.
The two buildings are located in RT 02, RW 05 Tembilahan Hulu District, Indragiri Hilir Regency, Riau.
Read more: 50 Schools in Indragiri Hilir Ready to Do Face-to-Face Learning, Education Office Waiting for Regent's Instruction


The two warehouses belong to residents named Buyung and Suriansyah. It is known that the warehouse is a storage place for building materials.
It is known that the landslide occurred at 09:30 West Indonesia Time, the river water was receding.
Read more: Urged to Immediately Form a Regency National Narcotics Agency, Regent Inhil visits the Riau Province National Narcotics Agency
The neighbor of Buyung, Hendri said that during the incident the residents were slaughtering sacrificial animals at the Pancasila Mosque in Parit 7.
"Suddenly people shouted, at that moment we saw the two houses slowly fall into the river, and the sound of the roadside fracture also sounded quite loud," he said.
---
---