The Health Protocol Disciplinary Enforcement Team to the Offices in Indragiri Hilir
Rida Ayu Agustina
Tuesday, Jul 07, 2020 | 04:51 pm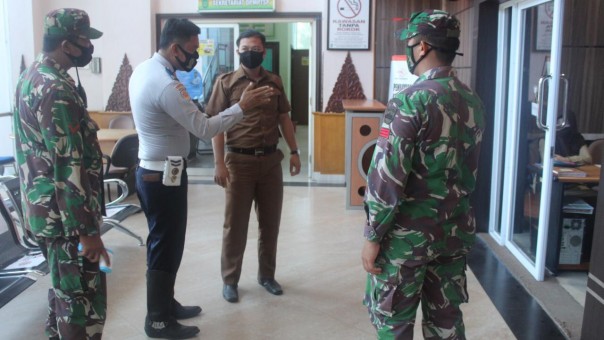 The Health Protocol Disciplinary Enforcement Team to the Offices in Indragiri Hilir
News24xx.com - The Covid-19 Health Protocol Disciplinary Team continued the inspection to offices and government offices in Indragiri Hilir Regency.
Checking and controlling carried out in 6 offices in the city of Tembilahan, on Monday, July 06, 2020.
As usual, agencies affiliated with the Indonesian Armed Forces Military District Command 0314/Indragiri Hilir, Indragiri Hilir Resort Police, Civil Service Police Unit, and the Transportation Office discipline and remind employees and contract office employees to continue to comply with health protocols so that services are more conducive to health services. in the middle of the new normal era now.
Read more: 50 Schools in Indragiri Hilir Ready to Do Face-to-Face Learning, Education Office Waiting for Regent's Instruction


Today's target is to carry out checks at 6 government agencies, especially those that usually serve the community such as the Agriculture Office, Inspectorate Office, Public Works and Public Housing Office, Tembilahan POS Office, Investment Office and One Stop Integrated Services Office and the Regional Revenue Agency office Indragiri Hilir.
"Monitored for the supply and implementation of the Covid-19 health protocol in offices where the inspection has been carried out is largely safe and meets the requirements," said Military District Command Operational Section Officer 0314 / Indragiri Hilir Captain Inf Tarmizi representing Military District Command Commander 0314 / Indragiri Downstream Lieutenant Colonel Inf Imir Faishal.
However, for Bapenda's office, it was found to be still not in accordance with Covid-19 health protocol.
Read more: Urged to Immediately Form a Regency National Narcotics Agency, Regent Inhil visits the Riau Province National Narcotics Agency
"It still does not meet Covid-19 health procedures, namely there is no barrier between visitors and employees, of course this is the same as not paying attention to physical distancing, especially the space is quite narrow," said the Operational Section Officer.
Pasi Ops also stressed that the Military District Command 0314 / Indragiri Hilir together with the other Gakplin Joint Teams will not be slack and bored in making appeals or controlling and will continue to conduct raids on control.
"Both on the streets, places of residence and offices both government and private offices, enforcement and discipline of this discipline will continue to be intensified until the government declares Indonesia free and safe from Covid-19," said the Operational Section Officer.
---
---