Welcoming the 59th Anniversary, Jasa Raharja Held Blood Donation
Mia
Monday, Dec 09, 2019 | 08:33 pm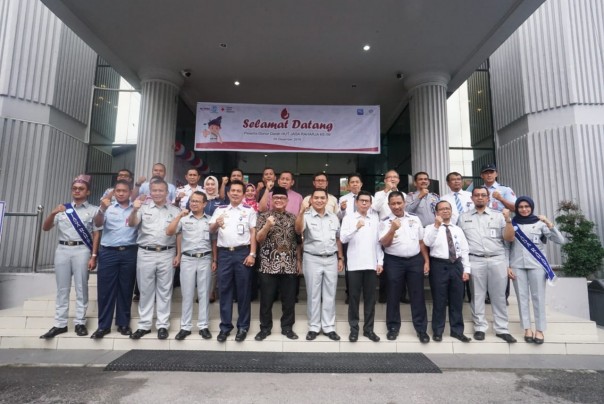 (In order to welcome the 59th Birthday, PT Jasa Raharja Riau Branch held a Blood Donation activity (photo / int))
PEKANBARU- In order to welcome the 59th Anniversary, PT Jasa Raharja Riau Branch held a Blood Donation activity in the yard of Jasa Raharja's office on Jalan Sudirman number 285 Pekanbaru, Monday (9/12/2019).
Activities that started from 8:00 WIB until 12:00 WIB were carried out simultaneously in all head offices and branch offices throughout Indonesia.
"This blood donor is targeting 100 blood bags, which will be used by people in need. Because a drop of blood will give a million hopes and will save lives, "said Riau Kasa Raharja Branch Head, Herry Kesuma, told reporters on Monday (12/09/2019).
He further said, with the implementation of donor activities in commemoration of Jasa Raharja's 59th Anniversary which fell on 1 January 2020, he hoped that in the future Jasa Raharja would be able to improve the quality of services to the community.
"We are nothing without the support of all parties who are partners. We continue to make breakthroughs and innovations for the sake of service and care for victims of traffic accidents, "he added.

The opening of the series of events was marked by a group photo, then continued with the awarding of certificates to several agencies that became Jasa Raharja's partners. And closed with a review of blood donor participants in the Jasa Raharja Office.
"The implementation of blood donor activities is also thanks to the cooperation and support of the Indonesian Red Cross (PMI) Pekanbaru City," said Herry.
Head of PT.Jasa Raharja (Persero) Branch Herry Kesuma said that the activity is not the first, but it is a routine service of Jasa Raharja in carrying out the humanitarian tasks attached to this SOE company.
Read more: Price of Cayenne pepper in Pekanbaru


In addition, Head of Branch of Jasa Raharja added that this event showed a good synergy between related institutions, which was expected to lead to improved services to the community.
The blood donor event was also attended by Riau Regional Police Director General, Head of Riau's Bapenda, Kadishub Prov.Riau, Kadishub Pekanbaru City, Head of BPTD Region IV, OJK, Organda Riau, BRI Leaders, Ombudsman Riau, Prov Public Information Commission. Riau, Dan Lanud, Head of Angkasa Pura II Branch, Head of Taspen and directors of Jasa Raharja Riau partner hospitals.
On this same occasion, the Head of Jasa Raharja Riau Operations Abdillah, conveyed the delivery of compensation up to elementary school. November 2019, PT Jasa Raharja (Persero) Riau Branch paid compensation to victims of public passenger transport accidents and road traffic accidents amounting to IDR 52,489,671,041, - or decreased by 6.39% when compared with the same period in 2018 of IDR 56,489,671,041.
In providing compensation, Jasa Raharja always provides fast and appropriate compensation to the victims' families. Payment of compensation is done by transfer to a hospital account where the victim has received a guarantee letter from Jasa Raharja. Currently Jasa Raharja Riau has signed an MOU with 55 hospitals in Riau Province.
Submission of compensation to either the victim or heirs or to the hospital is done by a chashless system or transfer to the victim's heir's account or to the hospital (for injured victims).
The speed of compensation payments is a form of spirit of Jasa Raharja's PRIME Service. Where the concept of PRIME is Proactive, Friendly, Sincere, Easy and Emphati can be realized thanks to the support of synergy from the Police, Hospitals, BRI, Transportation Department, Disdukcapil and other related partners.
For this reason, Jasa Raharja appealed to the public who had experienced an accident to immediately report the accident to the nearest Police or to the Jasa Raharja Officer at the nearest Samsat. (R24 / Put)
---
---