Masuri Returns Candidate Form for Election in 2020 to DPC PKB Bengkalis
Firman
Thursday, Dec 05, 2019 | 09:48 pm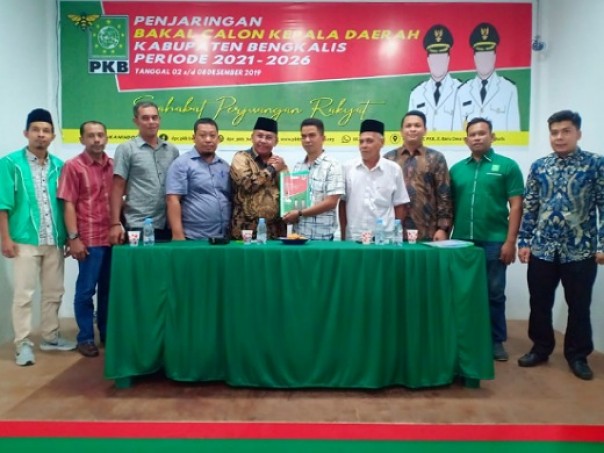 Masuri Returns Candidate Form for Election in 2020 to DPC PKB Bengkalis
News24xx.com - Masuri or who is familiarly called Mas Bagong officially registered the upcoming balloon selection of Bengkalis Pilkada 2020 regents to Bengkalis PKB DPC, Thursday, December 5, 2019.
Masuri returned the form accompanied by a number of sympathizers and was welcomed by the Chairman of the DPC PKB, Misliadi and a number of administrators and a regional head selection committee for the period of 2021-2026.
Read more: Kaderismanto paired with Iyet Bustami


Masuri said, to think of a large Bengkalis Regency is not easy, but if all of them work together together, it will definitely be light and the expected goals can be achieved.
"It is time for the young and milineal to have to be in front. Spacious spaces must be given because they have brilliant energy, abilities and thoughts," he said.
He revealed, today Bengkalis Regency needs space to facilitate employment, because the lack of employment causes economic difficulties. It is the duty of the government in the future how to facilitate employment.
Zxc2
"Today our economic growth rate is minus one percent, and at this rate the next year will be minus 3 percent. So, the government must facilitate employment," he said.
He hopes that in the future investment will be opened as wide as possible, micro to macro. The economic center must be connected with good infrastructure. Of the potentials that exist to develop the economy, and all parties work together so that this region can progress.
"If only building with a regional budget will not be enough, the big companies that are there, what are their contributions and their impact on this country," he concluded.

news24xx.com/fir
---
---