Stores Closed and Residents' Houses Cracked Due to WWTP Project, Deputy Mayor of Pekanbaru Asks OPD to Find Solutions with Riau BPPW
Firman
Tuesday, Dec 03, 2019 | 08:53 pm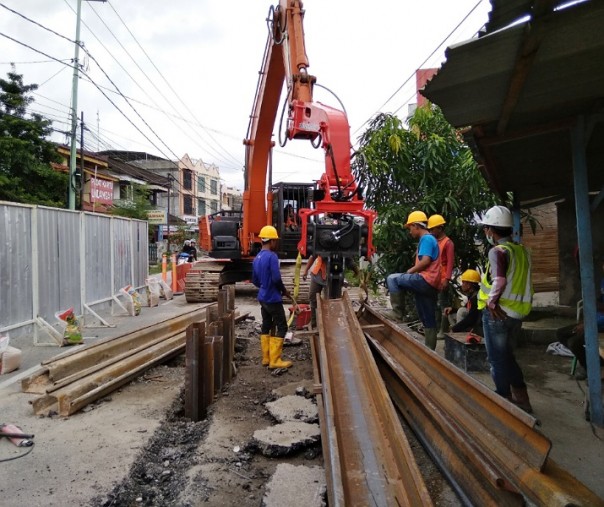 IPAL project workers are planting steel to punch holes in asphalt on Jalan Ahmad Dahlan Pekanbaru.
News24xx.com - The Wastewater Treatment Plant (IPAL) Project is currently being built on a densely populated road, around Sukajadi District. Throughout the project, many residents complained of the narrowing of the road until the house was cracked due to land drilling on this project.
Pekanbaru Deputy Mayor Ayat Cahyadi, Tuesday (12/03/2019), said, this WWTP is a project whose funds come from the State Budget (APBN). Hopefully, the WWTP project can be completed soon.

"Hopefully, this project will be able to assist us in dealing with integrated waste," he hoped.
Even so, many residents complained about the way the project was developed. Complaints from residents have long been heard.
Read more: Price of Cayenne pepper in Pekanbaru


"I have often also conveyed to the relevant DAERAG organization (OPD) to coordinate with the Riau Regional Settlement Infrastructure Agency (BPPW) of the Ministry of Public Works and Public Housing so that public complaints can be found for a solution," said Ayat.
This WWTP project is causing traffic jams. Motorists who crossed the project area were also disturbed.
"I also often pass there. There is a shop that used to be able to move, now it is closed. This is also related to residents' livelihoods," he said.
Read more: Al-Muhtadin Mosque Slaughtered 21 Sacrificial Animals
Verse has conveyed the complaints of these citizens to the technicalities such as the Transportation Agency (Dishub), the Environmental and Forestry Service, and the Public Works and Spatial Planning Office (PUPR). The technical offices are asked to coordinate in resolving public complaints.
"The latest incident, a resident's house was broken. Tell the contractor or BPPW Riau," suggested Ayat.
In essence, there is no problem that cannot be solved if all parties coordinate. The technical service must not let go if the WWTP project is not part of its work.
"It's not like that. It's in our area. We should be grateful there is this project," Ayat said.

news24xx.com/fir
---
---