First LAPD Officer to Die After Getting the Corona Virus
Monica
Friday, Aug 07, 2020 | 03:07 pm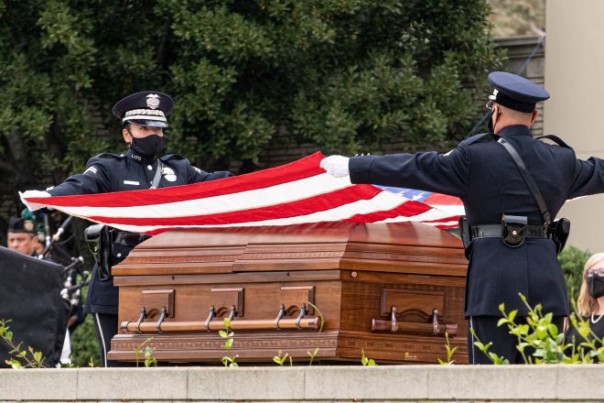 Officers remove the flag from the casket of LAPD Officer Valentin Martinez at the funeral service at Forest Lawn of Hollywood Hills
News24xx.com - Officer Valentin Martinez, who died last month after contracting COVID-19, was eulogized Thursday, Aug. 6, by the Los Angeles Police Department's chief, who said he was known as "one of the good ones," a cop who treated even those he arrested with respect and dignity.
Read more: Severe! A Woman in South Tangerang is Raped After Waking Up Then Terrorized From Instagram


In a socially distanced ceremony, the American flag-draped coffin bearing Martinez, 45, and LAPD Chief Michel Moore presents a flag to the domestic partner of LAPD officer Valentin Martinez at the funeral service for Martinez at Forest Lawn of Hollywood Hills Thursday, August 6, 2020. Rested just in front of a panorama depicting events from U.S. history at Liberty Hall in the middle of Forest Lawn Memorial Park's sprawling property in the Hollywood Hills.
Read more: Chronology of Robbery Selling Money of IDR 170 Million in a Small Shop in Ciracas; 1.5-Year-Old Girl Had Been Become a Hostage
LAPD announced Martinez's death on July 24. He was the first sworn officer and second LAPD employee to die after contracting the coronavirus.
---
---