The explosion that tore through the Lebanese capital has killed at least 100 people
Devi
Wednesday, Aug 05, 2020 | 03:16 pm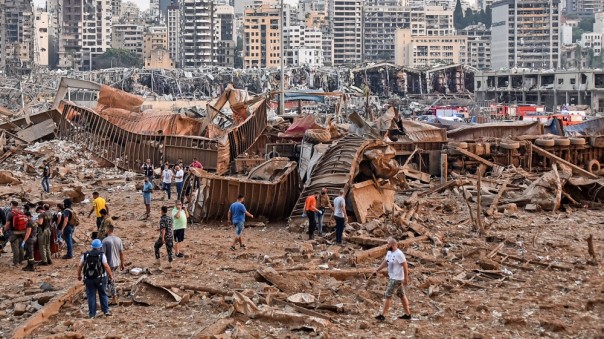 The explosion that tore through the Lebanese capital has killed at least 100 people
News24xx.com - The explosion that tore through the Lebanese capital has killed at least 100 people and injured thousands of others. People living in Beirut are waking to a scene of utter devastation today following the blast at a port that sent shock waves across the city.
The head of the Lebanese Red Cross, George Kettaneh told that the Red Cross was coordinating with the health ministry to take victims because hospitals were overwhelmed.
He added that at least 100 people were killed and more than 4,000 were wounded. Smoke is still rising from the port. Pictures showed major downtown streets littered with debris and damaged vehicles, and building facades completely blew out.
Read more: Attack of Racism; Give Salute in the style of Nazis and Despicable Black Man, Married Wives Arrested


At hospitals across the city, people had been waiting all night for news of loved ones who had gone missing or were wounded. Others posted requests for help online.
It was unclear what caused the blast, which appeared to have been triggered by a fire near a storage facility housing volatile chemicals. Interior Minister Mohammed Fahmi told a local TV station it appeared the blast was caused by the detonation of more than 2,700 tons of ammonium nitrate that had been stored in a warehouse at the dock since being confiscated from a cargo ship in 2014.
---
---