Unique German Fashion, Socks and Mountain Slippers Suddenly Get Viral
Citra
Saturday, Aug 01, 2020 | 03:46 pm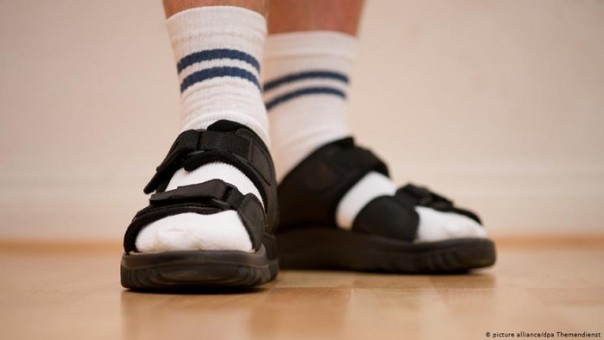 Unique fashion from Germany; socks and sandals
News24xx.com - The combination of mountain slippers and tennis socks may make some people confused. If it's hot enough to wear sandals, why do you have to wear socks? So, what if it rains? Many people find this style of grounded times really confusing, and unsightly.
This combination became increasingly popular in the world because of German tourists. They just enjoy walking with a combination of tennis socks and leather mountain sandals. This combination is more used by parents who don't care about fashion and trends. But what's interesting, this combination then became the German national stereotype.
Read more: Kate Middleton wore a necklace that was personalized with the initials of her three kids


Internet search results do not reveal much about the origin of this cliche. There is a Wikipedia page about "Socks and Sandals" in English and several other languages, but this page is not in German.
The first evidence related to the use of socks and sandals found during excavations was found at an ancient archeological site in North Yorkshire, England. Analysis of the remains of the sandals shows that the Romans have united the two even since 2000 years ago.
Antique socks from Roman-Egyptian times are split in toes and designed to be worn with sandals. These socks were dug from burial sites in Egypt at the end of the 19th century. These objects probably date back to the 4th and 5th centuries and have been a collection of the V&A Museum in London since 1900.
Read more: Create a New Atmosphere, Converse Selling Shoes with Models That Look 'Dirty', This is the Price
The Japanese also developed their own style from this combination, as the historian Birgit Haase reports, who is a professor at the University of Hamburg. Traditional 15th-century Tabi socks were also specifically developed to be worn with toe separators. These socks are worn by women and men in different contexts and are still part of formal attire, as in the tea ceremony, to this day.
According to Lena Smann, head of the fashion department of Vogue Germany Online, the Germans are known as the people who travel the most the world. While abroad they also want to continue to feel like they are at home, so Smann believes that even the Germans choose this style for comfort.
This fashion editor also said that "Germans love to make preparations and be prepared for every situation. Their weak point is always functional clothing, it can also be made to appear matching with a partner - and if you wear socks along with mountain sandals, your feet might not quickly blisters."
---
---