Without Pocketing the Permission Letter, Burger King Manager in Makassar Called by Regional People's Representative Assembly of Makassar
Citra
Tuesday, Jul 28, 2020 | 10:29 am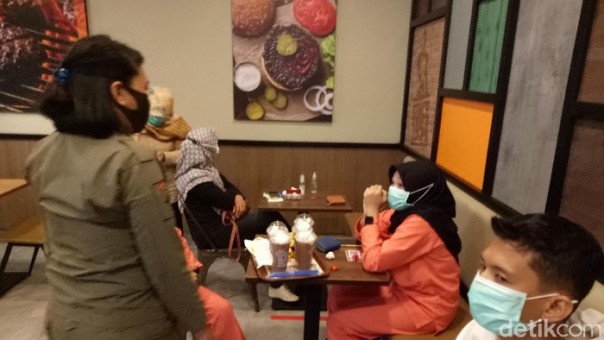 The opening of burger king in Makassar is polemic
News24xx.com - The opening of the fast food restaurant, Burger King, in Makassar sparked a polemic. Makassar City Government and the manager of Burger King were summoned by the Makassar DPRD.
This polemic began when the COVID-19 Task Force closed Burger King in Makassar. That's because Burger King doesn't comply with health protocols and doesn't have permission.
"Yes, so our goal here is to first review and supervise related to the health protocol. The first thing we found in this field is not in accordance with the health protocol, what we saw earlier and we present together is that the Burger King on Jalan Sultan Hasanudin is not in accordance with health protocol is the main one, "said COVID Control Action Team Coordinator 19, Irwan, Thursday (24 July 2020).
Read more: Viral Story of an old woman in Indramayu who almost died as a result of being wrapped around and sprayed by a cobra


Irwan explained that there were several health protocols that were violated by Burger King. One of them is to keep the distance between visitors who have not been implemented properly.
In addition, Irwan said that Burger King also did not have a permit based on the results of the PTSP and Disperindag Makassar inspection. For this, the fast-food restaurants were closed.
He also explained that if his party would take the next step to issue news on how to call the office for closure if it did not have permission it would be closed.
Read more: Alert! Just Because Of This Building Material, A Young Girl From England Has A Terrible Rare Cancer
The Burger King also spoke about the closure. The health protocol related to COVID-19 is said to have been implemented since outside.
"Actually, before the opening, the police checked how to apply health protocols, starting parking and entering the store, such as body temperature and wearing masks, which cannot be entered and that applies to all employees and all wearing masks. We try screening at the beginning of washing hands in front of restaurants, entering "Within the limitation of physical distancing queues, direct contact for hand-to-hand purchases and payments put money, not in direct contact," said Business Division Manager of Burger King Eastern Indonesia, Rio Fitrianto, via telephone, Saturday (25 July).
---
---