Only With Used Paralon, Men from Probolinggo Create Beautiful and High-Value Decorative Lights
Citra
Sunday, Jul 19, 2020 | 09:36 am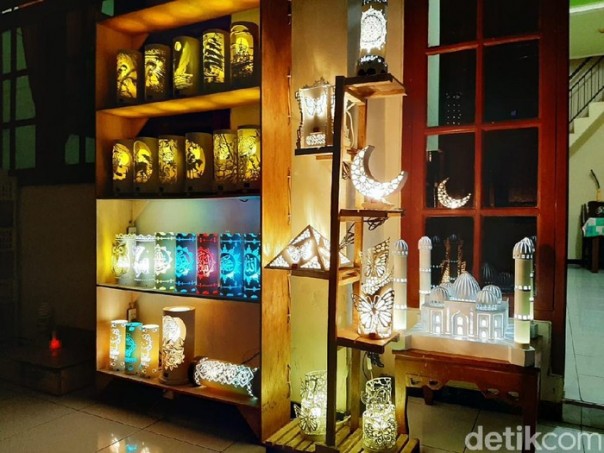 Recycling the work of teenagers in Probolinggo
News24xx.com - Who said that the used pipe for making wells is not useful. Proven in the hands of two teenagers in the City of Probolinggo. This former pipe transformed into various beautiful decorative lights and high artistic value.
On the porch of a modest house Erwin Andi Prastika (27), a resident of Wiroborang Village, Mayangan District, Probolinggo City, with his friend Yuzak Pamungkas (27) a Tongas resident, Probolinggo Regency, transformed a used pipe into a high-artistic decorative lamp on Thursday (16 July 2020).
Read more: Viral Story of an old woman in Indramayu who almost died as a result of being wrapped around and sprayed by a cobra


This pipe is the remainder of the making of the drilling well which is the main livelihood of Erwin Andi Prastika. In his hand, used pipes of various sizes were made by various night and room lights.
This pipe was previously cut as desired. The next step is to make a mall from paper, then carve it according to the picture. Start drawing Pinisi ships, butterflies, mosques to the writing of the pronunciation of Allah and the Prophet Muhammad.
It takes its own patience to paint with this drilling machine. While the price of this lamp is more expensive if there is a carving with great detail. The price is adjusted to the level of difficulty. Starting from IDR 70,000 to IDR 1,000,000.
Read more: Alert! Just Because Of This Building Material, A Young Girl From England Has A Terrible Rare Cancer
It takes 1 hour to make one decorative light. It can even be 1 day depending on the level of complexity of the patterns that have been made. Some designs, lights made of them, silhouette decorative lights, 3-dimensional decorative lights, butterflies to mosque-shaped decorative lights.
According to Erwin Andi Prastika, he has been making these works for 4 years. And orders that have been sent to Makassar and Papua. He learned to make this craft from social media (Social Media).
---
---