Just arrived at the Parking Hospital, Pregnant Woman's Stomach Contracted Terrific, Finally Giving Birth While Standing
Citra
Friday, Jul 03, 2020 | 03:29 pm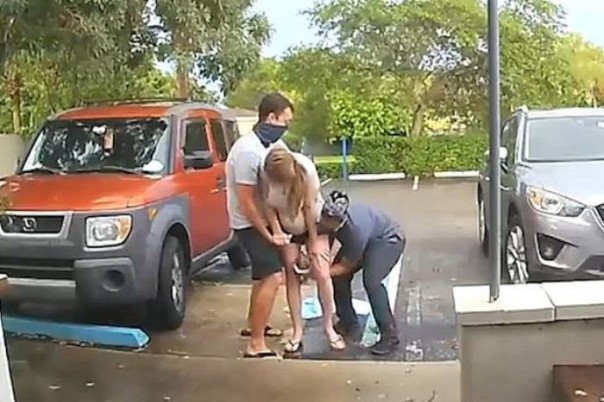 Unable to reach the hospital, this woman gave birth in a parking area
News24xx.com - Seconds of a woman giving birth to a baby while standing in a hospital parking lot recorded by CCTV cameras.
Quoted from Pikiranrakyat-bekasi.com from Mirror Thursday, July 2, 2020, the incident occurred in Coral Springs, Florida, United States (US) when Susan Anderson was brought by her husband to immediately give birth to Natural Birth Works.
When she arrived in the parking lot of the building, Susan could not hold her baby longer, before she could arrive in the delivery room.
Read more: Attack of Racism; Give Salute in the style of Nazis and Despicable Black Man, Married Wives Arrested


CCTV footage in the building shows Joseph, Susan's husband anxiously watching her baby come out of his wife's womb, assisted by midwife Sandra Lovaina.
In the video, Susan is seen bending over with the help of her husband and midwife to get to the place of delivery.
Two local police officers also arrived at the location shortly after the incident took place.
Read more: Revealed! It turns out that this is the origin of the ammonium nitrate that caused the big explosion in Beirut
Speaking to WFLA, Sandra, a midwife who helped Susan, said that it was the craziest birth she had ever handled.
"It happens in a parking lot. Sometimes babies come quickly. You just have to hurry and wear gloves," he said.
---
---