Thailand Reopens Schools With Added Precautions
Devi
Friday, Jul 03, 2020 | 03:18 pm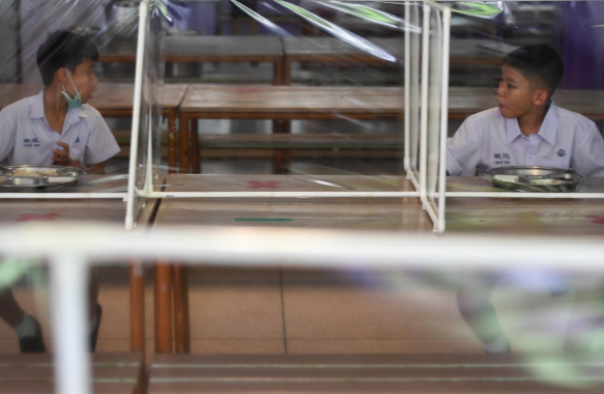 Thailand Reopens Schools With Added Precautions
News24xx.com - Millions of Thai kids back to class after three months spent under lockdown. They should have resumed in mid-May, but the government kept them shuttered for fear of spreading the virus.
Samkhok School in Pathum Thani, outside Bangkok has a fleet of private buses bringing the children in to avoid the use of public transport.
Sam Khok school, about 50 km (31 miles) north of Bangkok, nearly 5,000 students were told to self-quarantine at home for 15 days prior to the reopening as an added precaution, reports Reuters.
Read more: Attack of Racism; Give Salute in the style of Nazis and Despicable Black Man, Married Wives Arrested


"Once students arrive at school, teachers hand face masks to them because it's mandatory to wear them," said Chuchart, adding that face shields were also provided to pupils for additional safety during some activities.
Samkhok School has installed screens around every desk, isolating each pupil and making the classroom look more like a polling station.
Students also get their temperatures checked and a facial recognition scanner automatically sends a message to parents, adds the report.
In the classroom, desks look like ballot boxes used in elections given the placement of partitions to ensure social distancing.
Read more: Revealed! It turns out that this is the origin of the ammonium nitrate that caused the big explosion in Beirut
"I feel good studying behind the box because it makes me feel safer returning to school," said student Kanlaya Srimongkhol.
However, 17-year-old Soponwich Thianthong said while he felt more secure the partitions could be irritating because it limited his field of vision.
---
---