Kampar Regency Government Provides Assistance to Residents whose Houses were Destroyed by Air Force Fighter Aircraft
Firman
Tuesday, Jun 16, 2020 | 10:14 pm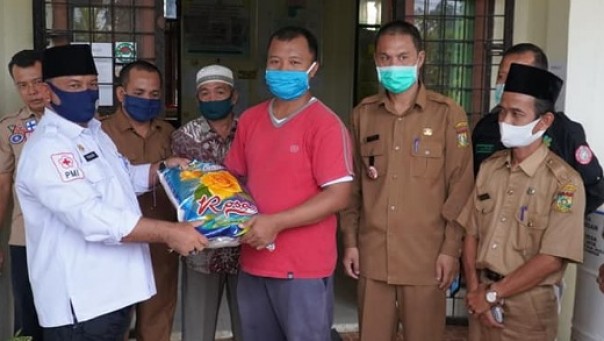 Kampar Regency Government Provides Assistance to Residents whose Houses were Destroyed by Air Force Fighter Aircraft
News24xx.com - As a form of concern, the Kampar Regency Government (Pemkab) handed over aid to residents of Mutiara Sialang Indah Housing, Kubang Jaya Village, Siak Hulu District who were victims of the fall of a fighter plane belonging to the Air Force.
This assistance was given by Setdakab Kampar, Yusri to the community whose house was destroyed by a Hawk 200 fighter that crashed on Monday 15 June 2020 yesterday morning.
Read more: Urges Communities to Wear Masks


"This is a disaster from God, a disaster like this can not be avoided, it is hoped that the affected community can accept it patiently," Yusri said, Tuesday, June 16, 2020.
Yusri assured, the Kampar Regency Government and the Air Force would certainly not remain silent, and coordinated to help repair homes destroyed by the fall of fighter planes.
"We also appeal to the public not to approach the area of ??the Air Force's downed aircraft, just follow the protocol of the TNI until the fuselage that crashed in residential areas has been evacuated," he said.
Read more: Positive Patient of Covid-19 from Kampar has Passed Away
As is well-known fighter aircraft piloted by First Lieutenant Pnb Apriyanto Ismail, crashed in a residential area Monday, June 15 2020 morning, around 08.00 WIB.
In that incident, the fighter plane was severely damaged after crashing into two residents' homes that were found to be empty.
While the pilot survived with a thrower kusri. Luckily there were no casualties, and the Air Force will be responsible for damage to residents' homes due to the incident.
---
---