Splashy! Videos of Thugs Who is Afraid of His Wife Make Netizens Amazed
Citra
Monday, Jun 15, 2020 | 04:01 pm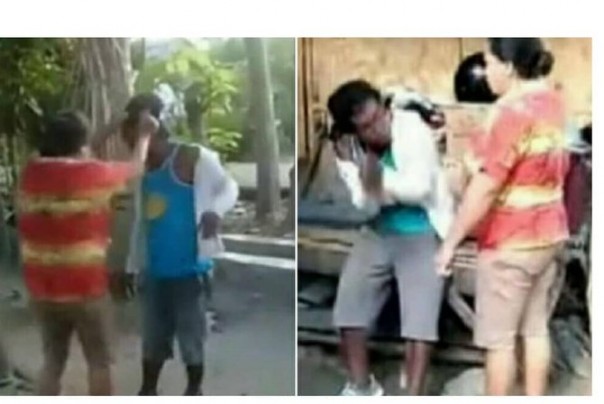 Thug Video who's afraid with his Wife
News24xx.com - The figure of a thug being the most feared by the public. Recently, the social media universe has been stirred up again by a viral thug who is afraid of his wife.
After committing a crime in the street, his wife dared to punish him. Thugs who had acted like a hero, suddenly unable to fight, until asking for mercy and crying. Check out the following information.
It appears a man in a hat-wearing a blue T-shirt and white outer wobbles with his partner.
For no apparent reason, he suddenly kicked a motorcycle that was parked on the side of the road. While pointing at one of the people behind him who tried to correct the position of the vehicle two roar.
Read more: Wow! Confiding of a Rich Man Complaining Having a Very Big House, From Room to Fence Can Make You Feeling Too Much


Arriving at home, the thug had yelled at his wife first. Not accepting, the wife suddenly wearing a red shirt with a yellow stripe grabbed and tweaked until her hat fell.
The big-bodied thug had time to dodge and stay away from the woman. Again fighting with words while pointing.
The chubby woman seemed to be leading the thug towards the house. Several times still scolded and tweaked.
Read more: Tiktok Viral Videos; A Beautiful Woman Was Disconnected Because Accidentally Deleted Her Girlfriend's Thesis
The husband who was still tottering finally sat on a bamboo chair. After fighting with words, he spontaneously received a slap from his wife.
Seeing the woman's response that seemed to punish it, the thug immediately clenched his hands begging for mercy while in tears.
The video uploaded on Sunday (14 June) was immediately flooded with comments praising the attitude of the thugs, to try not to fight the woman he loved.
---
---