Dozens of Region Facilitator of School Improvement Join the Meeting and Gathering at RAPP
Mia
Monday, Jan 13, 2020 | 08:06 pm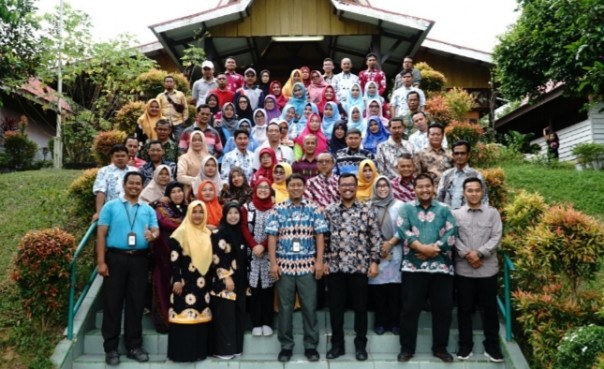 (A total of 60 Regional Facilitators (Fasda) from 5 Regencies in Riau attended the Work Meeting and Gathering at the Town Site 2 Integrated Business Development and Training Center (BPPUT), Pangkalan Kerinci (photo / ist))
PANGKALAN KERINCI- A total of 60 Regional Facilitators (Fasda) from 5 Regencies in Riau attended the Work and Gathering Meeting at the Integrated Business Development and Training Center (BPPUT) Town Site 2, Pangkalan Kerinci, Saturday (11/1). Fasda, who is also an elementary school teacher, has contributed to the success of the PT Riau Andalan Pulp and Paper (RAPP) Community Development (CD) School Improvement program.
One participant, Yonita Betria, said she was very helped since the existence of the School Improvement program at her school. Moreover, there is School Based Management (SBM) in school management.
"We have already benefited from this program by increasing school accreditation, from B to A thanks to the RAPP development," said Yonita who is also a teacher at SD 005 Gunung Sari, Kampar Regency.
Read more: Hotspots in Riau Region



Yonita added that the school received a satisfactory assessment of Adiwiyata from the Indonesian Ministry of Environment and Forestry (KLHK).
The Director of RAPP, Rudi Fajar said that this activity was an evaluation of last year's work program and the design of the work program going forward as well as to strengthen togetherness among Fasda.
"We see that the achievements of the target schools have been very good, and this is the result of our hard work together, the RAPP CD team and the district facilitators, one example can be seen from the results of the rising school accreditation and the awards received," said Rudi.
The participants of the Fasda Meeting and Gathering came from Pelalawan, Siak, Kampar, Kuantan Singingi and Meranti Islands. After the work meeting, the district facilitators were enthusiastic to join the gathering because they were enlivened with various attractive prizes.
For information, the School Improvement program is initiated by the RAPP CD, which aims to improve the ability to read, speak, count students, and contribute to achieving school accreditation and achieving adiwiyata schools. This program also helps the government improve the quality of education in the regions. (Release)
NEWS24XX.COM/MIA
---
---