Commemorating Historic Rengat, Inhu Regent holds Yasinan and Helps 550 orphans and widows
Mia
Sunday, Jan 05, 2020 | 09:49 pm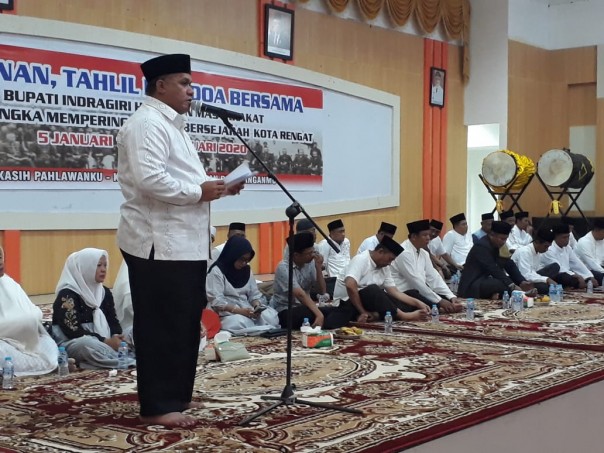 Commemorating Historic Rengat 5 January 1949, Regent of Indragiri Hulu (Inhu), H. Yopi Arianto SE held a degree of trust and support for orphans (photo / int))
INHU- Commemorating Historic Rengat 5 January 1949, Regent of Indragiri Hulu (Inhu), H. Yopi Arianto SE held the title of yasinan, tahlil and orphan assistance along with ASN, honorary, and Rengat City people in Dang Purnama Building, Rengat. Saturday 4 January 2020 evening.
Begun with evening prayers, listening to religious lectures and evening prayers in congregation in several mosques and mushallas that have been determined in the City of Rengat and its surroundings by officials / ASNs and honors throughout Indragiri Hulu Regency, then the activities were carried out in the Dang Purnama Rengat Building.
The series of events in the building were filled with dinner together, the yasinan and tahlil, guided by the Chairman of MUI Inhu, H. T. Wahab MH, tausyiah and prayers by Armin, S. Ag and the donation of 550 orphans and widows.
Read more: Principal of Junior High School in Indragiri Hulu Kompak Mundur


Inhu Regent, H. Yopi Arianto SE in his direction said that the implementation of the commemoration that began with praying in congregation at the mosque and mushalla this time showed the presence of the Inhu Regency Government in the midst of the community in disseminating information about the January 5 warning in Rengat City where many fatalities were caused by second Dutch military aggression.
During the commemoration of January 5 this time, which is at the end of the second term of H. Yopi Arianto's term as the Inhu Regent, he apologized while serving, especially in the January 5, 1949 memorial procession.
"This event should not be politicized, especially related to the procession of its implementation which changes every year. This is purely for the benefit of the people of Rengat City in particular and the Inhu Regency generally in remembering the dark history of Rengat City. Let's carry out it solemnly to appreciate the spirits of the heroes and the Rengat people who has fallen on that event, "explained Regent Yopi.
To the entire ASN, the Regent expressed his gratitude for his assistance and cooperation in developing the Inhu District, with the hope that in the future it will not be divided in developing Inhu.
To the community, the Regent asked for prayers for all ASNs or government officials in carrying out the wheels of government to be able to carry out the mandate and proceed as expected by the community.
Also present to accompany the Regent of Yopi at this activity include Secretary of Regional Inhu, Ir. H. Hendrizal M.Sc, Head of Protocol, Supandi S. Sos, MP, heads of OPD in the Inhu District Government, community leaders and other invitees. (R24 / Rouf)
NEWS24XX.COM/MIA
---
---