a Civil Servant in Bengkalis is desperate to commit suicide, Allegedly Due to the Burden of Life
Mia
Wednesday, Dec 11, 2019 | 10:36 pm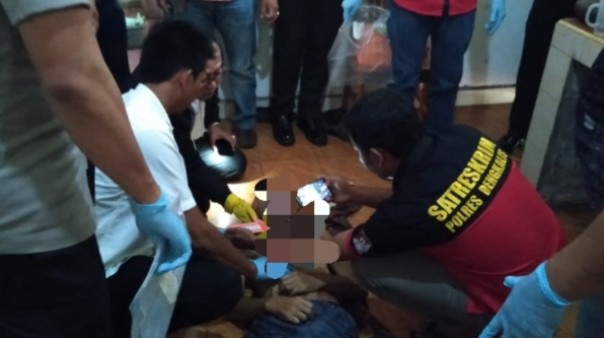 A Civil Servant (PNS) serving in the Bengkalis Regency Education Office (Disdik) is suspected of committing suicide (photo / HARI))
BENGKALIS- A Civil Servant (PNS) serving in the Bengkalis Regency Education Office (Disdik) is suspected of committing suicide in a bathroom in his house. The crime scene is located on Jalan Assalam Private Gang Kelapapati Village, Bengkalis District, Bengkalis Regency, Wednesday 11 December 2019 at 11.00 WIB.
Bengkalis Kapolsek AKP Maitertika SH MH when confirmed Riau24.com about the incident. It was stated by Bengkalis police chief that the victim was known to be named Aflimar, a civil servant in the Bengkalis Education Office.
"The suicide incident took place at the victim's house, exactly in the bathroom / toilet on Jalan Assalam, Kelapapati Bengkalis Village Private Gang," said Bengkalis Kapolsek AKP Maitertika SH MH.
Still the police chief explained that, according to witness testimony, the victim's wife named Widia Fitri around 08.30 WIB went out of the house to go to buy side dishes. Whereas who lived at home at that time was Kilas the victim's child.
Read more: Kaderismanto paired with Iyet Bustami



"At that time the victim (Aflimar red,) told Kilas (the victim's child) that the victim was going to take a shower. From Kilas' statement that the victim entered the bathroom More or less at 09.00 WIB. But at 10.30 WIB the victim did not come out of the bathroom. And then the victim's child calls but is not answered by the victim, "said the police chief explained.
Then, at 11:00 WIB the victim's wife Widia Fitri returned from buying side dishes. Then the victim's child tells the victim's wife that the victim is in the bathroom with the door locked from the inside.
"At that time, the victim's wife told her child to look from the ventilation of the bathroom door and it appeared that the victim had hung himself up," said the police chief again.
Then got the report, picket Bengkalis Police went to the scene and did the crime scene together with members of the Criminal Police Unit Bengkalis to be identified accompanied by officials from the Damon Village Health Center.
"At the time of the interrogation the victim was found bound to the neck with a nylon strap of about 3 meters, bleeding from the nose, allegedly bleeding from the genitals.
"After that, the victim was immediately taken to Bengkalis District Hospital by using an ambulance car owned by the Damon Community Health Center to be carried out by Visum," he said.
"And for the temporary suspicion of suicide, a life burden is suspected, but the results of the post mortem are waiting from the Bengkalis Regional Hospital," concluded the police chief. (R24 / Hari)
NEWS24XX.COM/WIFE
---
---