Pelalawan Official Sets Emergency Status of Flood and Landslide
Mia
Wednesday, Dec 04, 2019 | 10:07 pm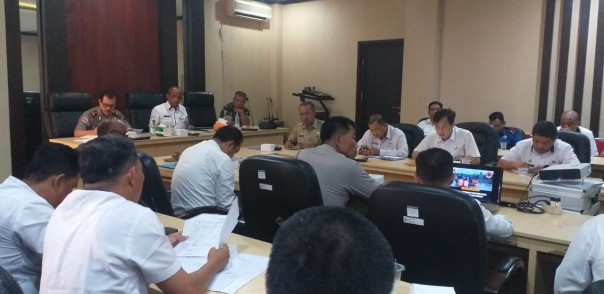 (Starting today, Wednesday (4/12/2019) to 31 December 2019, Pelalawan Regency was set for Flood and Landslide Disaster Preparedness (photo / Ardi))
PELALAWAN- Starting today, Wednesday (12/12/2019) to 31 December 2019, Pelalawan Regency has set for Flood and Landslide Disaster Preparedness. The determination was carried out by the Pelalawan District Government.
This determination is taken through the Flood and Landslide Disaster Management Coordination Meeting which was attended by Forkompinda, the sub-district head, Pelalawan Regency (4 Novenber 2019) in the regent's main meeting room. The meeting itself was led by Pelalawan District Secretary Drs Tengku Mukhlis.
To Pelalawan Regional Disaster Management Agency (BPBD) H Penandio said, the determination of the status is based on several considerations. One of them is the rise in the surface of the Kampar River and the Batang Nilo River.
"From before 70 mpdl it has now risen to 80.43 meters above sea level. Besides that, the rainfall is also quite high," said Hadi Penandio.
Besides determining the status, a number of preparations for disaster management are also prepared. As an anticipation step.
"We have prepared equipment and countermeasures right. The flood-prone posts have also been prepared," said Hadi.
Hadi Penandio also advised, that the community, especially those living along the Kampar River and Nilo River, to increase awareness. (R24 / Ardi)
---
---