Overwritten by a Very Large Tree, a Car Repair Shop and the Cars Inside Were Destroyed
Citra
Tuesday, Dec 03, 2019 | 05:21 pm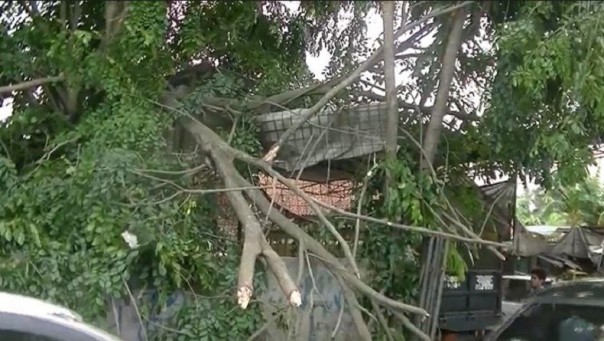 Photo : Internet
A large tree on Jalan Pasar Jengkol, Banten, Tuesday (03 December 2019), afternoon fell and hit a car repair shop. Luckily there were no casualties in this incident because the employees were praying Asar.
Very big, the fallen tree trunk until this afternoon is still covering some of the roof of the car repair shop. This decades-old big tree fell down due to strong winds.
According to one of the workers, Rizal, he had expected the tree to collapse, after heavy rains, last Monday (03 December 2019). "Yesterday it rained, this tree had cracked, but there was no rain just strong winds," he said.
Read more: Viral Story of an old woman in Indramayu who almost died as a result of being wrapped around and sprayed by a cobra


As a result of the collapse of this tree, the workshop roof made of asbestos is damaged and broken. Some of the cars that were being repaired inside the workshop were not damaged.
But the workshop activities became disrupted because the workers were afraid of being crushed by a trunk that had not been cleared.
NEWS24XX.COM/CTR
---
---