10 Hectares of PT Sambu NTS Land in Inhil Burned
Mia
Monday, Nov 18, 2019 | 05:53 pm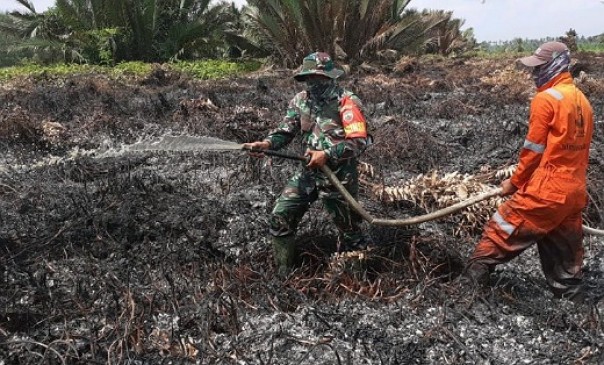 Fire fighting
Fires have hit land in the area of ??PT. Sambu NTS Sungai Pinang, Trench 6A and Trench 6B, Tanah Merah Village, Tanah Merah District, Inhil Regency, Sunday 17 November 2019.
In order not to continue to spread to other vacant land, the fire was extinguished by a team consisting of 1 TNI element, 6 members of the National Police, 10 Fire Fighters (Damkar) and 10 people Fire Concerned Community (MPA) who fought together to carry out the extinction and cooling and demarcating land.
"Fire devours a large portion of vacant land, we make a barrier so that the fire does not widen and spread," explained Danramil 02 / Tanah Merah.
In the extinguishing and cooling effort, 3 units of the company's fire extinguishers were also deployed, 40 suction hoses, and 6 large hose reels. "We have mobilized everything to accelerate the extinction and cooling of the burning land," added Danramil.
Danramil said, the fire fighting that burned the land had to be rushed because there were many inhibiting factors if it was too late in handling it.
"Accessing the road to get to the location is quite difficult, it must pass the waterway. Peatlands can cause burning husks if they are not cooled immediately and very few water sources so that they become obstacles in the extinction," he said.
To note, the area of ??burned land is around 10 hectares and the initial appearance of the hotspot and the perpetrators who caused the land to burn are still under investigation by the authorities.
---
---